We regularly monitor and report on our performance to ensure we deliver on our strategic plan.
The figures we report on are combined with our quarterly Tenant Satisfaction Measure (TSM) surveys to show us areas we're doing well and areas that may need more attention.
To read more about what we're doing with your feedback, check out our 'what we've done with your feedback' page. 
We measure resident satisfaction* to monitor how you think we're doing. Satisfaction is scored out of five, and some measures have targets set against them.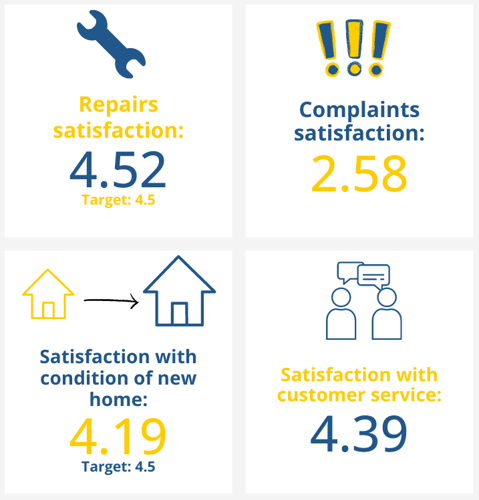 There are also a number of targets* set by our Board to check how well we're doing as a business: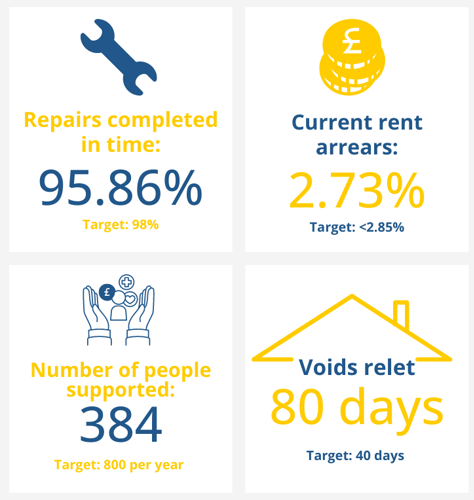 *statistics shown are from January-June 2023
Want to find out more?
For in-depth information about our performance over the past year, please read our latest Residents' Annual Report. The Residents' Annual Report includes information on how your rent is spent, resident involvement and scrutiny panel activities, the work we're doing in your communities and to support you, as well as information on repairs and numbers of anti-social behaviour and complaints cases.
We want to make sure our services are developed for you and to ensure we continue to improve with your voice at the centre of our decision-making. We work with residents to consult on various areas within the business to ensure we're getting it right.
If you're interested in sharing your views, visit our resident involvement page for more information.