While CCTV cameras are normally used to prevent or spot crime or anti-social behaviour, they can also highlight good things that happen in our neighbourhoods.
We recently spotted one of our tenants, Richard Green, tidying up the bin store at the top of Hollytree Avenue, Swanley - and were so impressed that we called in to say 'thanks'.
"I spotted Richard a few times clearing up other people's rubbish in the bin store, putting bags in the bins and sweeping up," said our Community Safety Officer Mandie Stallard.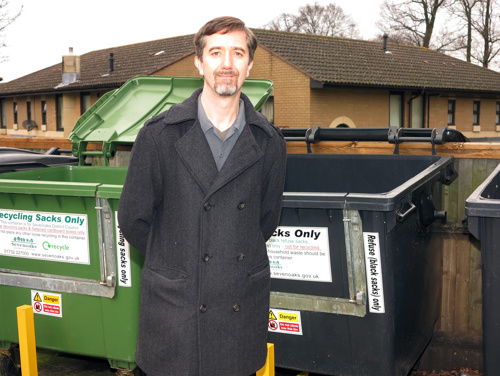 "He made a real difference to the neighbourhood and was clearly taking a pride in his local area on a purely voluntary basis, so I went to see him and took him a thank you card. Richard is a great example of someone who has taken our 'Love where you live' message to heart."
Richard told us he had got into the habit of checking the state of the bins once or twice a week because he hated to see the area looking a mess.
"As people turn into Hollytree Avenue it's the first thing they see, and if it's been left in a state it's really not a pleasant sight," he said. "I like to see the place looking tidy and it doesn't take much just to clear up anything that has spilled and give it a quick sweep.
"If the bin store is left in a mess, foxes, cats and the wind quickly make it worse, so I was just trying to do my bit. I didn't expect to get noticed and it was a pleasant surprise when Mandie dropped in to say thank you."