Our new series of roadshows aimed at supporting responsible dog owners in Swanley and Sevenoaks produced plenty of waggy tails when Sevenoaks District Council's community bus parked up in Cherry Avenue, Swanley.
A Jack Russell called Bouboulina was one of the earliest visitors to the first of the monthly 'Love your dog' events we are running in partnership with the district council.
Bouboulina's owner Alexander Christen collected some free dog poo bags and chatted to our Community Safety Officer Mandie Stallard and the district council's Animal Control Officer Ann-Marie Milton.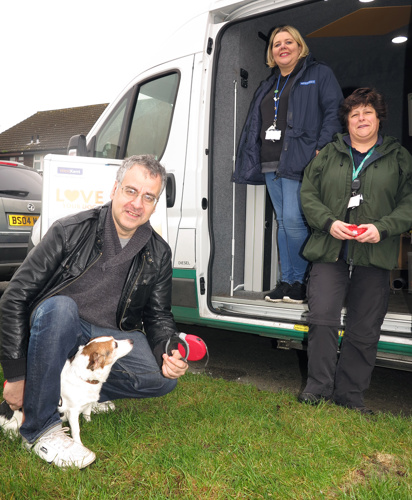 While Bouboulina had already been micro-chipped – with all her details up to date – that wasn't the case for a later visitor, Staffordshire Bull Terrier Dolly.
Darren Almeida and Alicia Walby had only recently acquired Dolly and took her along to the roadshow to take advantage of the offer of free micro-chipping, sponsored by Dogs Trust. Dolly, not quite a year old, took it in her stride.
"We had heard that West Kent ran these roadshows for dog owners and after getting Dolly we had been hoping they would organise another one," said Darren.
We ran a series of responsible dog owner roadshows to promote micro-chipping before it became a legal requirement in 2016, and we found that when the roadshows stopped, the number of complaints about animal nuisance rose.
"This showed us that the earlier roadshows had a positive effect, and so we decided to bring them back across Sevenoaks and Swanley, working in partnership with the district council," said Mandie.
As well as giving out free poo bags and offering micro-chipping, the pair were able to provide general advice on health, well-being and behaviour, as well as taking the opportunity to talk to tenants about more general issues.
Roadshows will be held in a different location on the last Friday of every month from 10am to 1pm. The next one will be at the Eden Centre, Edenbridge, on 23 February, from 10am to 1pm.