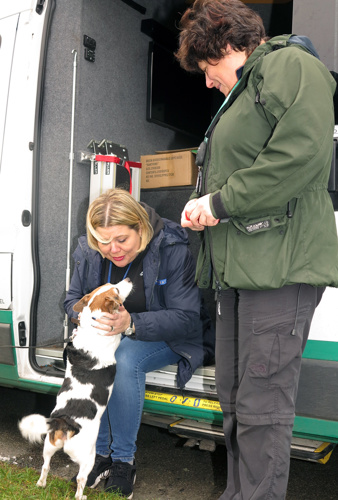 Calling all dog lovers – don't forget our Love Your Dog roadshow is heading to Edenbridge this Friday (23 Feb).
Dog lovers will be able to collect free poo bags, pick up some useful advice and even have their pooches micro-chipped when we park up at the Eden Centre between 10am and 1pm.
The roadshow, run in partnership with Sevenoaks District Council, is aimed at encouraging people with pets to be good neighbours.
We ran a number of responsible dog owner roadshows to encourage people to have their pets micro-chipped before it became a legal requirement in 2016.
The roadshows ended once that date was passed, but unfortunately complaints about animal nuisance returned soon afterwards.
Since the roadshows had clearly been doing a good job, our Community Safety Officer Mandie Stallard has set up another series, once again working with the district council's Animal Control Officer Ann-Marie Milton.
They will be on hand to talk to people about being good pet owners, hand out poo bags and give people another chance to have their dog microchipped for free, courtesy of Dogs Trust. They will be based in the district council's community bus.
"While the focus will be on dog health and well-being, we will also be happy to talk to tenants about other more general issues," Mandie added.