We've been celebrating success after scoring a hat trick of wins at the Kent Housing Group 2017 Excellence Awards.
Apprentice Hayden Wynn, who was described as having "raised the bar for future apprentices" was among the winners at a ceremony that celebrated "the innovation and dedication" of professionals who deliver services that support people in Kent and Medway.
Hayden, who joined us at the age of 16, was nominated for the Kent Housing Group's Excellent Young Achiever award by Claire Davidson, who heads up the association's ICT team.
His success was matched by that of Lauren Downs, Senior Tenancy Support Officer, who was highly commended in the Excellent Housing Professional of the Year category of the awards, which are also supported by the Kent Joint Policy and Planning Board (Housing).
There was further success for our development team when we were named as a joint winner in the Excellence in Development category for our impressive redevelopment of Cedar Court in Edenbridge, which opened its doors this summer.
Hayden, who was West Kent's first ICT apprentice when he joined in July 2016, was described as "a remarkable young man who has developed hugely in confidence and knowledge in a few short months".
The nomination went on: "From his actions and positive behaviours, he has developed the ICT Apprentice role into something much bigger than initially anticipated by the Head of ICT and has raised the bar for any future apprentice.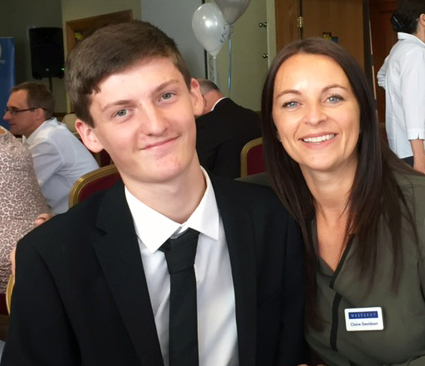 "He has proved that not having the highest level of GCSEs is no barrier to excelling in learning and delivering great results for his many internal customers, producing excellence in everything he does."
Lauren's success in the category for housing professionals reflected her significant contribution to the welfare of West Kent's tenants – including Anthony Craggs, now a tenant at White Oak Court, Swanley. You can read how Lauren helped Anthony here.
The impressive £1m redevelopment at Cedar Court has created a bigger, better and more modern  move-on scheme that will help residents build skills for independent living. You can read more about Cedar Court here.