Re-housed, helped and happy, that's the positive result for one of our tenants who now lives in Swanley's White Oak Court.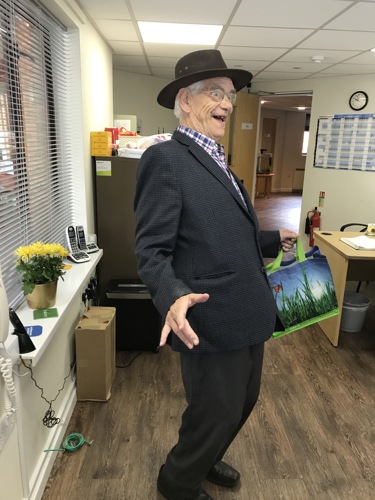 All thanks to the keen eye and extra interest taken by Lauren Downs, Senior Tenancy Support Officer. Lauren saw that Anthony Craggs, a man in his 70s, was struggling to cope with living on his own. Lauren worked with various agencies and secured a flat for him in one of our extra care schemes, helping him move and coordinating the furnishings he needed to make his new flat into a home.  
Extra Care offers independent living for people aged 55 and over, with the added reassurance of staff being on site 24 hours a day. We support residents to live an independent lifestyle, offering a wide range of on-site services such as a restaurant, a weekly activities programme, chiropodists, hairdressers, hearing and vision specialists. 
In his new home, Anthony's life has been turned around and he loves taking part in the many social activities with the other residents. He's become a very popular figure, joining in with many events, including dancing and bingo, and has a whole new lease of life. He says, "I can't thank Lauren enough for having faith in me and getting me to move in here. I love it and the area, thanks so much." 
Lauren is really pleased with the positive result for Anthony and says, "Working in housing and support feels like what I was always meant to do."
More about housing for the over 55s and Extra Care