An Edenbridge housing scheme for people with learning disabilities that was damaged by a fire has risen like a phoenix from the ashes following a major refurbishment.
Guests at the official opening of our new Cedar Court scheme paid tribute to the dramatic improvements at the building, which now boasts eight one-bedroom apartments and a communal space.
Chief Executive Frank Czarnowski joined Sevenoaks District Councillor and Edenbridge Town Council Chairman Cllr Stuart McGregor at the unveiling of the impressive refurbished, modernised and extended scheme.
They were joined for the short opening ceremony by Scott Edwards, Managing Director of Brenwards Builders, the company that carried out the work, and Deborah Ibbetson from MacIntyre, the national charity that will provide care for residents at Cedar Court.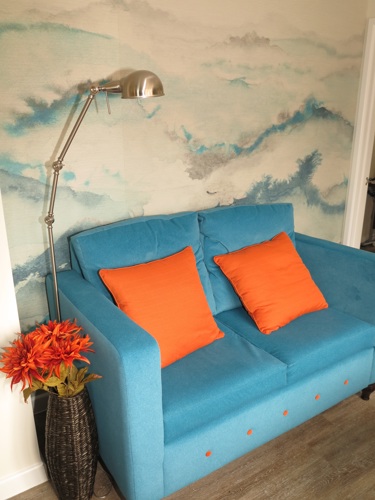 The £1m refurbishment was part funded by the Homes and Communities Agency and Sevenoaks District Council, as well as by a significant investment from West Kent.
The original building was designed in the early 1990s as a supported housing scheme for adults with learning disabilities and support needs, but its bedsit-style layout proved unpopular, and a fire at the building prompted a rethink and a redesign.
The new scheme features spacious individual flats with separate bedrooms, together with a shared furnished apartment with a conservatory and direct access to a communal garden. It provides five-year, move-on accommodation that will give residents the care and support they need to build skills for independent living.
The innovations at Cedar Court include the use of carefully chosen colours and other features aimed at creating the right environment for residents.
We brought in interior designer Jacqui Smith, from West Sussex-based HomeSmiths Ltd, to apply her colour psychology skills to the learning disability scheme that provides individual tailored support with 24-hour care.
She explained that colour and design features had been used both internally and externally to create the right mood for the various rooms.
"Teal, the main colour in the communal areas, is a blend of blue and green and is a peaceful tone that will help make residents feel relaxed when they arrive. The dining room is orange because it has been shown to be a sociable colour that stimulates appetite," she said.
The garden features sensory planting, with flowers that are good to touch and smell, while giant games and a summerhouse will encourage residents to enjoy the outside space.
West Kent will provide housing management at Cedar Court, with tenants all being nominated by Kent County Council (KCC).
Homes are allocated by a panel of representatives from KCC, West Kent, Sevenoaks District Council and MacIntyre. Those moving in have been assessed as needing care and support but with the skills to develop independent living.