A group of Eynsford youngsters learned new skills before sitting down to enjoy a splendid lunch when they joined one of our Summer FunFest events.
What made the lunchtime feast even more enjoyable was the fact that the group - aged from nine to 14 - had prepared and cooked it all themselves.
The Come dine with us event led by our Youth Services team was designed to teach the children new skills, introduce them to different tastes and inspire a love of cooking.
The cooking skills sessions are one of a number of different activities being organised across Eynsford, Westerham, New Ash Green, Dunton Green and Chevening between now and Tuesday 29 August - with spaces still available.
"This was part of the 'healthy lifestyle' strand of the work we are doing with young people this summer," explained Youth Co-ordinator Amy Cole-Perner, who was supported at the event by Lucy Moore-Smith and Ben Reynolds.
The first part of the event saw Ben teach the youngsters about food safety, from the importance of washing their hands through to us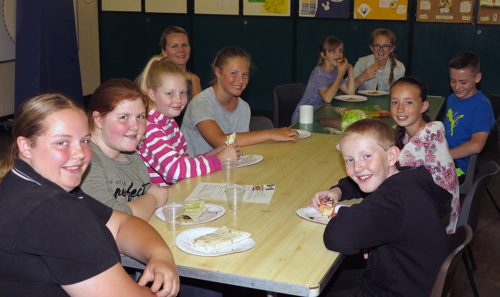 ing the right chopping boards and dealing safely with raw meat.
They then took to the kitchen, where they prepared bruschetta and chicken fajitas, which introduced some of the children to different tastes from other countries.
"What was interesting was the number of children who told us they didn't like certain ingredients but then ate and enjoyed them," Amy added.
As well as Come dine with us, youngsters can join sessions on urban art, drama and circus skills. They are free, open to 10 to 14 year-olds and  limited to 20 youngsters per session.
Tom Kellett is leading the popular circus skills sessions and will be teaching young people how to perform with a diabolo, flower stick and poi, as well as juggling, kendama and plate spinning.
For the full list of venues, activities and dates, click here.