Tenants welcomed visitors to their comfortable new homes at Woodlands Court  following the official unveiling by Sevenoaks MP Michael Fallon on Friday (12 October).
We demolished 16 flats in four blocks at Northview and replaced them with 31 larger, airy apartments at Woodlands Court as part of our Age - A Positive Experience strategy.
The apartments are designed to support independent living and are available for rent to over-55s. Our integrated 'hub and spoke' design means tenants will be able to use the facilities at nearby White Oak Court as well as enjoying their own communal lounge and large garden.
While chatting to tenant Mrs Doreen Harding in her spacious two-bedroomed apartment, West Kent's Housing Director Deborah White said Woodlands Court echoed the association's determination to provide "quality homes where people can age well".
The 'hub' at White Oak Court, which has a 24 hour care team on site as well as offering a restaurant and lounge, hairdresser, library, games room and laundry room serves residents at Bonney Way as well as at Woodlands Court.
"We have tried to achieve a balance," said Deborah. "While residents here have their independence, we have included communal areas to help tackle loneliness and the additional facilities at White Oak Court are just a few minutes away, as is the town centre. Above all it's about choice."
Doreen, who moved to Woodlands Court with husband Paul from a three-bedroomed West Kent property, explained that their old home had become unsuitable because of its size.  "Our daughters had left home and the house had too many steps for Paul, who is not very mobile. We applied for a flat and this place is just unbelievable. It has so much space, a lovely view over Swanley Park and a lift. It's also modern and low maintenance."
As he welcomed guests to the opening ceremony, MP Michael Fallon pointed out that downsizing moves such as Doreen and Paul's played a vital role in freeing up larger homes for growing families, and he congratulated West Kent on its vision.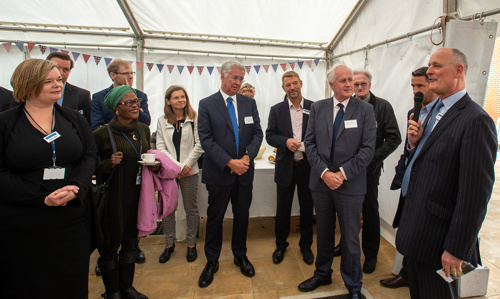 There was praise, too, from Tim McLoughlin, Projects Director with builders Chartway, who said the company had rarely worked with a client that had put so much care into a development and was so focused on quality and on every aspect of the development and the facilities included within it.
Residents of Northview were provided with alternative accommodation while the new homes were being built and were then given the opportunity to move back in to one of the new apartments.
One of those who took advantage of that opportunity was Anne Surendran, who had lived in Northview for five years before being housed temporarily in Walnut Way and returning to become a proud tenant of one of the spacious single-bedroomed apartments at Woodlands Court.
"I'm very happy here," she said. "The flat is bigger, there are more people around and the communal lounge is a bonus."
Chief Executive Frank Czarnowski gave a special "welcome back" to Anne and the other tenants  who had 'returned' to Woodlands Court and said it represented an important milestone in our Age – A Positive Experience strategy.
West Kent was committed to building quality homes that helped people  live independent lives and stay connected, with a focus on good design, good layout and good facilities, he said.
Northview community hall was not demolished with the four blocks of flats and is likely to be used in future to provide extra facilities for residents at Woodlands Court and the wider community.