Although providing homes for the people of Kent is our primary goal, we also place a real importance on building strong communities wherever we have houses.
That demonstration shines through particularly clearly in one of our newest homes, where our team has forged links across the generations as well as supporting local children with special needs.
Residents at Beeches in Dover, one of five new extra care schemes we now manage, provide a warm welcome each week to youngsters from the nearby Whitfield Aspen Primary School.
As well as bringing some of its more able children to practise reading to the over-55s in the Emerald scheme homes, special needs teacher Natalie Sparnon also brings one of the children with severe learning disabilities.
Whitfield Aspen is a fully inclusive school – one of just a few in the county – where mainstream children mix and learn with others with profound and multiple learning difficulties.
Those youngsters include nine year-old Frankie, who joined Fletcher, aged seven, and Freddie, six, on a recent trip to the Beeches, due to be officially opened on Wednesday 5 July.
"Coming to Beeches and meeting the older people is really valuable to us and we hope it gives the residents as much pleasure as it does the youngsters," said Natalie.
"The children get really excited coming here. As well as bringing some of our year two pupils here to read and chat, we bring some of our year threes up on a Thursday to sit and sew with the residents. They absolutely love it."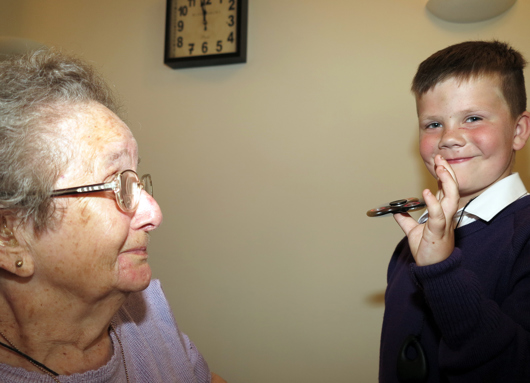 On their recent visit, Fletcher and Freddie had a great time demonstrating their fidget spinners – a recent playground craze – as well as reading to their older friends. The pupils and staff also used Makaton sign language to wish Beryl Adams a happy 92nd birthday.
Some of the children have also been invited to attend the official opening of the sheltered scheme in July and have been teaching their friends how to sign "Good afternoon and welcome to Beeches".
Natalie commented: "Our visits help the children to speak with confidence and they really get on well with the residents. Not all our children are lucky enough to have grandparents and so this is a lovely experience for them. We get lots of positive feedback."
Scheme Manager Juliette Field highlighted how much the residents looked forward to seeing their young friends. "It's a really special part of their week," she said.