Volunteering is often seen as the preserve of older, retired people with time on their hands and enough disposable income to allow them to support a good cause for no financial reward - but that's not always the case
In the second of a series of case studies on the people who volunteer to help in libraries across the county, 12 year-old Milly Gibbons from Lyminge tells us how she started:  
It was a visit with the Guides that inspired Milly. "We came here for a talk about the library and we were told about how important volunteers were in helping to run all the extra activities," she said.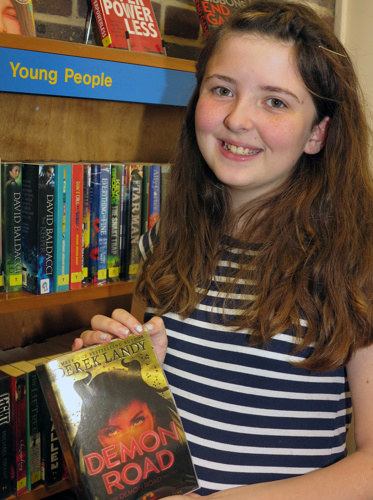 "I was already a big fan of the library as I have been coming here since I was two and I love to read, so I told my parents I wanted to volunteer."
Parents Ian and Rebecca were happy to see Milly devote some of her after-school time to supporting the staff and inspiring the younger children, and so the youngster, who turned 12 in September, found herself working alongside customer services assistant Jane Pace.
Milly explained that she loved helping to organise craft events and inspiring young visitors at Baby Rhyme Time sessions. "It's great to meet new people and I really enjoy the buzz of helping to inspire creativity in young children," she added. She reads rhymes on Thursdays and helps organise craft events in the holidays and believes her volunteering has boosted her confidence.
A fan of books by Michael Morpurgo, Roald Dahl and, of course, J K Rowling, Milly started at the Folkestone School for Girls this term but has no plans to stop volunteering at the library.
She won this year's Bedingfield Education Endowment Award in recognition of the support she gives younger children. "I was proud to win the award, but I volunteer because I really enjoy it," Milly added.
If you think you might like to join the happy band of library volunteers, give us a call on 01732 749420 or email getinvolved@wkha.org.uk
Pictured: Milly Gibbons - Favourite book: Michael Morpurgo – The Fox and the Ghost King.
I really enjoy the buzz of helping to inspire creativity in young children"

Milly Gibbons