Teenagers today lead busy lives, but some still find the time to give something back to their community by volunteering.
In the third of a series of case studies on the people who volunteer to help in libraries across the county, Shannon Phillips from Stockbury reveals how it's become something of a habit:

When she signed up to Kent County Council's Time2Give volunteering scheme and began helping out at the Kent History and Library Centre, Shannon Phillips thought it would be a worthwhile use of a few days in the summer holidays.
But now, with the holidays over and her final year at Valley Park School in Maidstone well underway, 17 year-old Shannon is planning to return to help out with a new after-school club is planning to set up with  library supervisor Claire Bevis.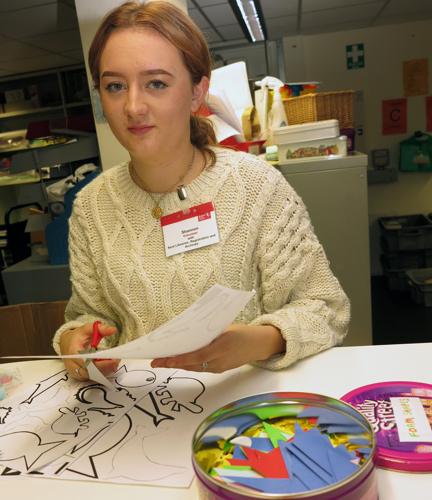 "I've enjoyed helping out with preparations for the craft activities and so I offered to come back once a week after school to continue volunteering," she explained.
As well as preparing for the craft sessions, Shannon has been helping with behind-the-scenes activities such as packing books to be sent to other libraries around the county.
She decided to volunteer not just because she wanted to "give something back" and make her summer more interesting, but because she felt it would be useful work experience.
"I am now in my final year at school, studying for English literature, history and health and social care 'A' levels," she said. "I want to go into editing and publishing after going to university to study English, and I thought working in a library environment would help that ambition."
Shannon, who lives in Stockbury, is no stranger to volunteering. As well as her sessions at the history and library centre, she spends a day a week working in an Oxfam shop and is about to give up another day each week to run activities for older people at a care home. The busy teenager also works in her local farm shop at weekends.
"It's been a busy summer but I've found volunteering very worthwhile and I would recommend it as a way of gaining new experience and skills while giving something back to the community," Shannon said.
If you think you might like to join the happy band of library volunteers give us a call on 01732 749420 or email getinvolved@wkha.org.uk   
Pictured: Shannon Phillips - Favourite author/book: Jane Austen, Emily Bronte; Jane Eyre, Wuthering Heights.
I've found volunteering very worthwhile and I would recommend it as a way of gaining new experience and skills

Shannon Phillips