It says what it does on the van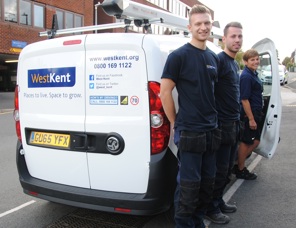 Our newly painted repair vans are out and about spreading the West Kent message as well as bringing tradesmen to your door to sort out any niggles with your home.
We have had our fleet of 30 repair vans painted with our name, logo and contact details, letting everyone know about what we do across the community.
As well as advertising the good work the engineers do for our residents, the sign written vans provide an added safety measure. When a genuine engineer knocks on your door, you can be 100% sure that it is a West Kent employee, as the van outside will feature our name and logo.