Residents and guests at our over 55s scheme, Bowles Lodge, enjoyed a celebratory coffee morning to mark Starts at Home Day today.
Celebrations were also in store for Amy Chamberlain, Bowles Lodge's oldest resident, who turned 99 yesterday.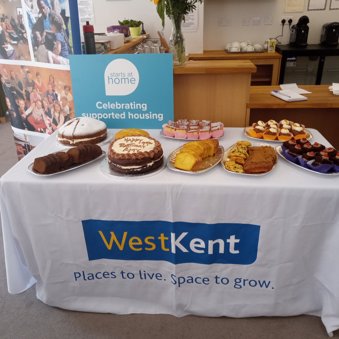 Starts at Home Day sees housing associations across the UK celebrate supported housing, and the positive impact it has on people's lives. Bowles Lodge, West Kent's extra care scheme, offers independent living with a dedicated housing management team and on-site care services. 
Volunteers from Age UK Tunbridge Wells - who run a coffee morning at Bowles Lodge every Friday - created a party atmosphere which includes a 1920s themed quiz, a sing-along of residents' favorite tunes and plenty of delicious home-made cakes. 
Deborah White, Director of Housing made a short speech explaining the importance of supporting the National Housing Federation's Starts at Home Day campaign: 
"Starts at Home Day has a simple but important aim - ensure people who need extra support will always have a safe home that meets their needs, so they can live fulfilling, independent lives. This is our third year of supporting this valuable campaign as West Kent remains committed to creating beautiful homes and thriving communities."
Guests included the Mayor and Mayoress of Tunbridge Wells, Cllr James Scholes and his wife Mrs Scholes, Hawkhurst and Sandhurst Cllr Patrick Thompson, and representatives from Galliford Try and Kent County Council. Guests chatted with residents and were taken on a tour of the facilities; including a lounge, restaurant, gym, bar, hairdressing salon and beautifully landscaped garden.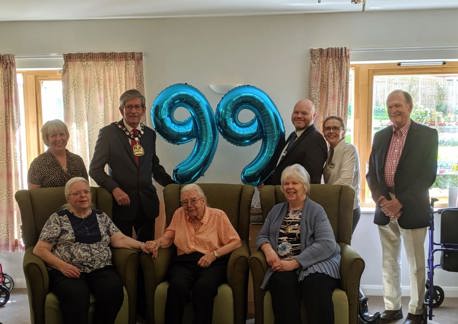 After the tour, a birthday cake was presented to Amy, who moved to Bowles Lodge with her daughter Beryl so they could spend time together, with the added benefit of help and support when they need it. Residents were delighted to join in with the birthday celebrations and expressed how happy they are living at Bowles Lodge. One resident, Daphne, summed it up by saying:
"I just love it here. We are all mates together and there's so much going on, without any restrictions. You can do precisely what you want - it's wonderful!" 
30 August 2019