The newest members of our "West Kent family" were welcomed to their homes at the official opening of Spires in Tenterden yesterday (Wednesday 28 June).
The extra care scheme was opened by Graham Gibbens, Kent County Council's (KCC's) Cabinet Member for Adult Social Care, who was joined by our Housing Director Deborah White and Ashford Mayor Cllr Winston Michael.
Deborah said residents at the Emerald scheme, which is home to people aged over 55 with a care need, had already developed a strong sense of community. "It's good to see people creating a vibrant place to live, getting together and having fun. They have joined the West Kent family," she commented.
Spires, in Ashford Road, St Michaels, was built as a result of the £100 million Kent Excellent Homes for All PFI scheme, a partnership between KCC, Ashford Borough Council, Kent EHFA ProjectCo Ltd, Galliford Try Partnerships and Galliford Try Facilities Management.
Deborah praised "the vision" of the county council in developing the five extra care schemes that have together provided 218 homes across the county, including the 22 single-bed apartments and 19 two-bed apartments at Spires.
The five schemes were built by Galliford Try Partnerships but are being managed by us under a 25-year contract, while Galliford Try Facilities Management will repair and maintain the buildings and grounds.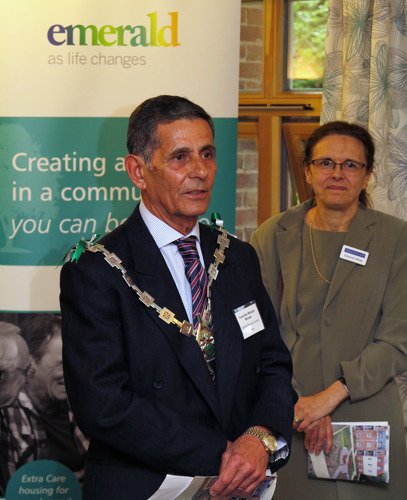 Cllr Michael also praised Spires strong sense of community, adding: "It is already a place that many are fortunate enough to call home, a welcoming community with carefully designed communal facilities."
West Kent Chief Executive Frank Czarnowski was unable to be at the opening but said he was "proud of the homes we manage and delighted to have been asked to take on the management of Kent's new extra care schemes."
He added: "If we can give people a quality home in pleasant surroundings that allow them to retain their independence while having care available when they need it, moving into an extra care scheme can be the start of a whole new life."
One of the many residents who enjoyed the short opening event was Dawn Ades, who took advantage of our pet-friendly policy at the new extra care schemes by bringing her dog, Issy, to live with her. "He's the first dog to live at Spires and is very spoiled," she admitted.
After visiting the gardens, where residents have done their own planting, guests toured the scheme and met Jean and John Carman, who showed off their large and comfortable two-bedroomed apartment.
Just on the edge of Tenterden, Spires boasts an impressive range of facilities, including a hairdressing salon, restaurant, bar, laundry, gym/dance studio and computer suite.
With community links a major part of the philosophy behind the extra care schemes, many of the facilities are available to members of the public. After chatting to a group that was touring the building, hairdresser Chelsie King turned her attention to her next customer, teenager Toby Brinkhurst. 
Pictured: Cllr Winston Michael and Deborah White.