Proud residents showed visitors around their new homes at the opening of Strawberry Hill in Dartford, one of five new supported housing schemes managed by West Kent and providing more than 200 homes across the county.
Those residents included Fred Fordham, whose delight at finding himself living in one of his new apartments has been matched only by his son David's.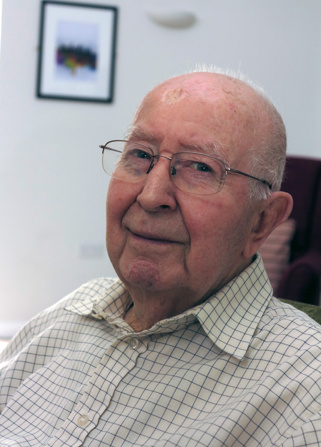 Fred, 92, is one of the first people to be enjoying the blend of independent living and 24-hour care at Strawberry Hill, which was opened by Cllr Penny Cole, Kent County Council's (KCC's) Deputy Cabinet Member for Adult Social Care and Public Health, and Cllr Pat Coleman, Dartford Council's housing portfolio holder.
Other VIPs at the event included Jeremy Kite, the leader of Dartford Council and our own Chief Executive Frank Czarnowski, who opened the proceedings and praised the teamwork of all those involved in the scheme. 
Fred's son David has described seeing his dad settling in to his apartment so well as "a joy". He explained: "He is making new friends and being well cared for. Every time I see him he tells me: 'They're a real good crowd here' and I know he is referring to both the residents and the staff."
Strawberry Hill was built as part of the Kent Excellent Homes for All private finance initiative by Kent EHFA ProjectCo and reflects the commitment of a partnership that brings together KCC, Dartford Borough Council, Dalmore Capital, Galliford Try and West Kent.
Kent Excellent Homes for All is a £100 million scheme that has provided 218 extra care apartments across five schemes for people who are over the age of 55, have a care need and are on the local authority housing register. Two more schemes providing supported accommodation for vulnerable adults take the total number of new homes to 238.
Strawberry Hill has 19 one-bed apartments and 21 two-bed apartments, each with a spacious lounge, kitchen and accessible bathroom. While Fred, like other first and second floor residents, has a balcony, each ground floor apartment has its own patio area.
"Mum died last year, and after more than 60 years of marriage dad was a bit lost and struggling to adapt to life on his own in his bungalow," said David. "Moving to Strawberry Hill has helped him cope with that loss."
Scheme manager Lorna Elcock explained that the idea behind the extra care schemes was "to help people live as independently as possible but with the support of knowing there is help available when they need it".
Like the other four schemes, Strawberry Hill has facilities including a restaurant, lounge, bar, laundry, gym/dance studio, bathroom with hoist, hair salon and activities/computer suite. The flats are large and well equipped and the schemes are fully wheelchair accessible, with good storage for mobility scooters.
Built by Galliford Try Partnerships, the schemes are being managed by West Kent Housing Association under a 25-year contract, while Galliford Try Facilities Management will repair and maintain the buildings and grounds.