We've made a start on more stunning new homes for older people who want to enjoy independent living with a communal focus.
The Emerald scheme being built for us by the Chartway Group at Northview in Swanley will provide much-needed accommodation for the over 55s in modern, one and two-bedroomed apartments.
While the scheme at 58 to 88 Northview incorporates some communal facilities, it is aimed at providing comfortable homes for older people with moderate needs they generally meet themselves.
"Northview provides accommodation for the over-55s on the same basis as our hugely successful Bonney Court development just around the corner," explained Head of Support Rajinder Manger. "That scheme has proved so popular that we decided to provide more of the same."
The smart new development – currently hidden behind impressive hoardings - follows a design competition won by architects Pellings, perhaps not surprisingly the same firm that designed Bonney Court.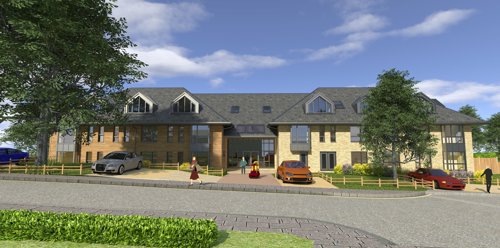 We demolished four tired blocks of flats on the site – each providing four homes – and are making better use of the space to provide almost twice as many modern apartments, a total of 31.
As well as providing the land, we are funding the £5.24m build contract, with the help of a grant of £1.16m from the Homes & Communities Agency, part of the Department for Communities and Local Government.
We worked closely with the residents of the old supported living flats to provide them with alternative accommodation during the building work and will be giving those households first choice on renting one of the new homes when they become available early next summer.
As well as asking a panel of judges to choose the design from a number submitted by local architects, we selected Kent builders Chartway Group – based at Coxheath, Maidstone – in a competitive process.
Tim McLoughlin, Projects Director, Chartway Group, said: "Chartway is a company focused on delivering diverse opportunities for the various communities of Kent and we are delighted to have been appointed by West Kent Housing Association to construct this scheme for older people with local connections to the Sevenoaks district."
Rajinder stressed that West Kent was working hard to provide more homes for the growing number of older people who were looking for modern independent living in comfortable surroundings.
"People are living longer, older people are at risk of feeling isolated and we need to help them live active, meaningful lives," she said. "The five new Kent Excellent Homes For All schemes we are managing have provided 218 extra care apartments across the county, and while Northview does not set out to provide the same level of care, it will add another 31 fabulous new homes to our stock.
"This is another example of our determination to invest in new homes that are better suited to the current and future needs of our ageing population and support our ambition to build homes for the future."