New shop at Montgomery Court 
A new shop, run by Medway League of friends, has opened at Montgomery Court, a West Kent Extra care scheme near Rochester.  The shop at Montgomery Court has been shut since March due to a lack of staff, but Medway League of Friends have stepped in to re-open it. The shop is open to the public, as well as residents and will stock a wide range of groceries and everyday items.
The Mayor and Mayoress of Medway, Cllr Habib Tejan and his wife Bridget Tejan, attended a ceremony to officially open the shop, with residents and guests breaking into applause as a ribbon was cut. The Mayor has a personal connection to Montgomery Court, as his mother-in-law, Agnes, was one of the first residents to move in to the scheme and he and his wife are delighted that Agnes will now have more independence and the chance to shop for herself.
Other guests included staff and volunteers from Medway League of Friends, and Chairman Derek May MBE explained why the charity decided to take on the shop at Montgomery Court after West Kent's Business Development Manager, Shane Convey, approached them with the suggestion;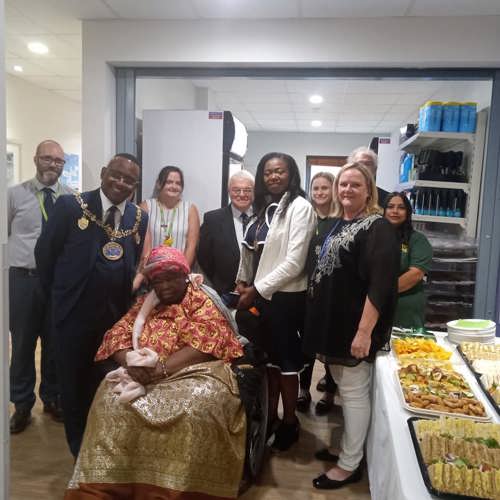 "Medway League of Friends has supported the local community, for over 50 years, by enhancing the care and welfare of health service users, staff and visitors in the      Medway area. Our main shop is based in Medway Maritime Hospital, but branching out into the local community, and into an extra-care scheme is a natural step for us, and part of our community commitment. We are offering a useful service, but more than this, encouraging connections and enhancing the local community. Some residents might just want to pop in to say hello and have a chat, and that's fine with us."
Staff in the shop were full of smiles, welcoming new customers after the opening. They also hope to be a useful resource for those living locally, as the shop will be open to the public every day of the week, 8-6 Monday to Saturday and 9:30-4:30 on Sundays.
Amanda Fairman, Scheme Manager at Montgomery Court, expressed her delight at the shop re-opening;  
"We are so grateful to the Medway League of Friends for making this happen. This shop is invaluable to residents as it means they can shop for themselves and make their own choices. This helps sustain their independence, which is what living in an extra care scheme is all about."
Shop information:
Medway League of Friends shop
Montgomery Court
Choir Close
Wainscott
Rochester ME3 8FP
Opening times: Monday-Saturday 8am-6pm, Sunday 9:30-4:30pm
4 October 2019