One of the UK's leading property development and construction companies – in partnership with West Kent – has been shortlisted for their work on a development set in a vast country park.
Anderson, alongside West Kent, has reached the final cut for the Homebuilder of the Year in the South category in this year's UK Housing Awards for its Faversham Lakes scheme.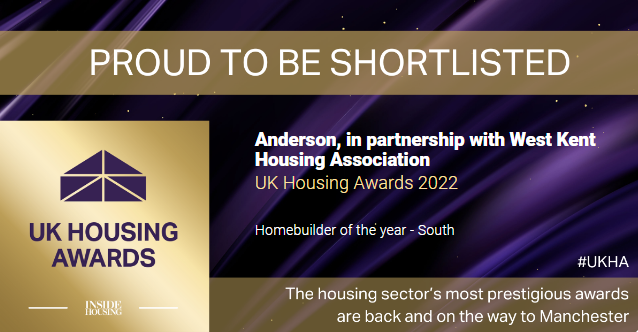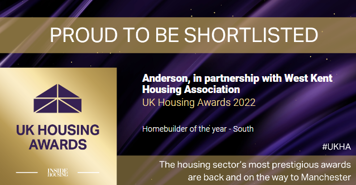 The project – with a gross value in excess of £120million – impressed judges with its concept of "boundless living" and houses with spacious open-plan designs, generous gardens and all within walking distance of the landscaped parkland.
Glenn Potter, Managing Director of Development at Anderson, said: "We are thrilled to have been shortlisted in this prestigious award scheme for a development we are immensely proud of.
"An impressive 35% of the houses on site are designated affordable housing and the development offers excellent transport links, education provision and community assets which all tie into the development ethos of 'room to grow, room to play and room to live'."
The country park was officially opened earlier this month meaning that residents in the early phases of the development are benefitting from the open space now rather than waiting until the end of the development in two years' time.
Tracy Allison, Chief Executive at West Kent Housing Association, said the project had met the local housing need "head on".
Tracy added: "As of June 2022, the Housing Register at Swale Borough Council, which includes Faversham in its constituency, had 1,405 live applications with a great need for all sizes and types of homes for residents.
"Approximately 10% of people who applied, require a property with an adaption and yet more require ground floor accommodation only. In addition, almost 50% of people going through the application process, noted Faversham as an area they would like to live.
"Meeting this housing need has been at the forefront of the drive to allocate 35% affordable housing at Faversham Lakes.
"We are delighted this has been recognised by the award judges and have our fingers crossed for the win."
The site was originally a series of lakes and a disused quarry and the homes have been carefully designed in amongst the water to create a picturesque country-feel.
Anderson has engaged throughout the project with nearby residents, local stakeholders, and local authorities and incorporated a wealth of suggestions from local people that have enhanced existing community facilities to support the community growth.
This has included redeveloping the former Oare gunpowder works on site and bringing forward the listed buildings as a heritage centre along with supporting buildings including retail units.
Other community assets include a new Sea Scout troop headquarters, an extended car park for the local school and a community theatre.
Testimonials from residents already living on site demonstrate community spirit is already in full swing and that they are thrilled with their purchases – which led to Anderson scooping an In-House Gold Award for developers with a 96% recommendation rate from customers.
The winner of the Homebuilder of the Year in the South category at this year's UK Housing Awards will be announced on 25 November.