The air smells of sweet success at Montgomery Court in Medway, West Kent's Emerald Extra Care scheme for over 55s, after five of their tenants and staff have successfully quit smoking, three of them kicking the habit after smoking for more than 50 years.
In July the NHS, in conjunction with Medway Council Stop Smoking Service, started an eight week programme at Montgomery Court to get people to stop smoking. All tenants and staff who smoked were invited to join the programme, the five chose 4th July to become independent from smoking and improve their health and wellbeing.
The tenants have reported having more energy, more money and even the return of their sense of smell. One lady was previously dependent on an oxygen tank because she suffers with COPD but since giving up the cigarettes she has found that she doesn't need it. Their families are pleased to visit their flats because they no longer smell of smoke.
Scheme Manager Amanda Fairman explains:
"I am one of the five and I feel so much better. I have smoked for 35 years. It is so nice to be smoke free and I don't have asthma or a smoker's cough any more. I also got my husband to give up at the same time and we are going to Rome next month with the savings we've made.
I've been working in housing, managing schemes for older people for over 12 years and this is the most rewarding outcome I have had for a service that I have set up. I just love to see these tenants walking around smoke free especially Pat without her oxygen tank. "
Pictured left to right on photo here: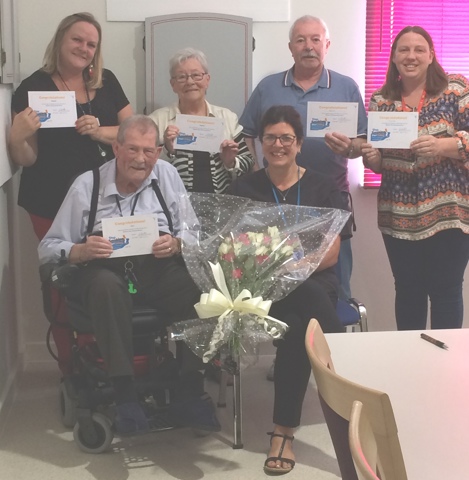 Amanda Fairman (Scheme Manager), John Keenan (Tenant), Pat Livermore (Tenant), Marie Smith (Stop Smoking Advisor), Dave Brown (Tenant) and Leeanne Pearce