Sonya Okubule put theory into practice during a two-week business start-up course held in The Mall in Maidstone.
After a week or so of learning a range of business skills, including marketing and the importance of customer feedback, she took the opportunity to test out her own business ideas.
Sonya's new venture, B.Well Nutrition Services, supplies healthy snacks and meals based on her own recipes, and she was quick to spot the marketing opportunity provided by a captive audience of fellow course members.
Her offer to provide a selection of lunchtime dishes for would-be entrepreneurs attending the PopUp Business Schools (PUBS) event sponsored jointly by West Kent and Golding Homes was enthusiastically received.
"It gave me a chance to pick up some new customers as well as the opportunity to do some test marketing and see what people thought of the recipes," said Sonya, who lives in Shepway, Maidstone.
Sonya, 50 and keen to succeed as her own boss, was full of praise for the event, the second to have been held in the borough this summer.
"The course has been fantastic," she said. "It taught me to be bold and to go for it. If you want to set up your own business you just need to have the confidence to give it a try and not be held back by doubts.
"But it's not just about inspiring people and giving them confidence. The course contained an awful lot of practical advice as well, but all presented in an upbeat, no-nonsense way."
The PUBS philosophy is based on encouraging people to set up their own small business by highlighting opportunities, making them believe they can make money out of doing something they love and then giving them the practical tools to do it.
The free, high-energy events avoid the tales of red tape, business plans and bank loans that can deter potential entrepreneurs, concentrating instead on persuading people to 'have a go' and follow their dreams.
It is particularly suited to people who may not find it easy to get a conventional '9 to 5'-style job, perhaps because of childcare responsibilities.
PUBS has a solid track record of helping people set up successful small businesses. The company's research shows that, nationally, an average of 37% of those who attend do go on to start up their own business, with 89% of those businesses still going strong 18 months later.
At West Kent we have now sponsored several events across the borough, and we know of several people who are still running businesses they set up as the result of attending a PUBS course.
With different drop-in sessions on offer throughout the ten days, the Mall event covered everything from networking and tax to marketing and setting up a website, with lots of real-life examples and inspirational anecdotes.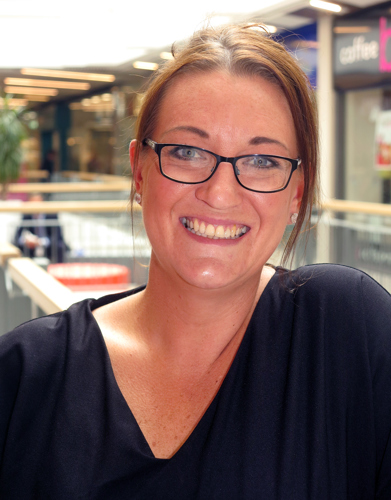 Another resident who came away from the course inspired to take her business idea forward was Swanley resident Kelly Stedman (pictured).
Kelly set up outdoor clothing company Stedman Equestrian some time ago, but after having some samples made she found herself "lost in the jargon", and the business was firmly on the back burner before she attended the PUBS event.
"It's been completely inspirational," she said. "I now know I can do this and I have a clear way ahead. I've picked up a huge amount of information, set up a website and made some great contacts. I'm now looking for a UK manufacturer and I'm determined that Stedman Equestrian will succeed."