When we asked artist Sarah Bourne to work with residents at our mental health move-on scheme at Library House, Ramsgate, we didn't know quite what we were starting.
Sarah taught the group some photographic skills and then took them to a variety of seaside locations across Thanet, where they let their creative juices flow.
The result was an impressive batch of photographs, which went on display at a first birthday celebration event in Library House - and has now started a tour of the county.
"The photographs were so impressive that we felt they deserved a wider audience," explained Innovation Manager Illa Scopel. "We selected some of our favourites and had them professionally mounted and now they are going on display at our five new extra care schemes."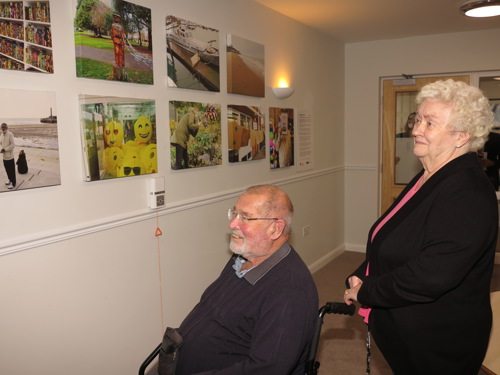 The touring exhibition was launched on Wednesday (8 Nov) at Copperfields in Ramsgate, where residents who cast a critical eye over the photographs were all very impressed. They included Frank and Jenny Young, pictured.
Sarah Bourne said the aim of the project had been to help those taking part "think creatively, express themselves and explore the visual aspect of the world around them".
She added: "It was a privilege to work with the residents on this project and amazing to see how much the course boosted their confidence and broadened their horizons as well as teaching them new skills."
The exhibition will be at Copperfields until Friday 17 November before moving to Beeches, Dover (Wednesday 22 November to Friday 1 December), Spires, Tenterden (Wednesday 6 December to Friday 15 December), Bowles Lodge, Hawkhurst (Wednesday 10 January to Friday 19 January) and Strawberry Hill, Dartford (Wednesday 24 January to Friday 2 February).
The exhibition is free and open to the public as well as to residents. All five of the extra care schemes have facilities that can be used by local people, including a restaurant and hairdresser's salon.