We've received a Kent Housing Group Extraordinary Award for our organisational effort in responding to Covid-19 over the past year.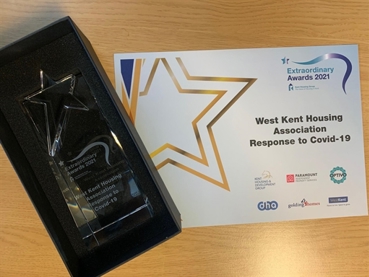 Housing associations, councils and community projects have been celebrated in Kent Housing Group's 11th awards of all that is excellent in housing across Kent and Medway at a virtual event on 14 May. 
This year, with the covid-19 pandemic preventing the usual awards ceremony, KHG had plan something different in early 2021. They wanted to make sure all the extraordinary work in not just housing, but partnership working and health and social care over the last 12 months was still recognised, so hosted the celebration virtually.
This year, the Extraordinary Awards recognised and celebrated nominations from across the KHG membership and its partners, each person, project or team nominated, with each of them receiving a prize box containing a glass award and certificate.
The event was attended by over 100 staff members from KHG membership organisations across Kent. West Kent received an award for our organisational effort in responding to Covid-19 over the past year.
West Kent staff members decided on their top three nominations from across the business, and the executive team chose their favourite to submit. Chief Executive, Tracy Allison, explains why West Kent nominated our team effort.
You can also read our full nomination below:
West Kent's response to Covid-19 was led by staff at all levels, working collaboratively to continue providing our services to residents.
Staff quickly implemented daily meetings to discuss the changes and what we could do to work around these. These provided clear data to report on how we were delivering our services and how to continue doing this. We:
Set up empty properties so we had a bank of furnished voids (including fresh bedding and essential items), for residents in a crisis, or a major repair when they are covid positive. Set up with key safes outside, so they could move in contact-free.
Cleared our backlog of 3000 repairs by August
Worked with our contractors so our processes were the same and residents knew what to expect from us.
Set up virtual viewings using an augmented reality app, to keep the moving process going during lockdown.
Called every resident over 80 regularly to check they were ok and didn't need anything.
Established a Covid area of the website and drove residents to it via our social media pages.
Regularly communicated changes using our website, social media, newsletters, and resident magazine, particularly after each government announcement.
Set up West Kent Together, so any resident who was feeling lonely had someone to chat to regularly.
Moved all our youth clubs online and provided 'pamper packs' to parents who were struggling.
Moved our resident involvement activities online –we now have more residents than ever involved.
Promptly provided all offices with sanitiser (and ensured an ongoing supply), organised additional cleaning daily of touchpoints around the buildings, supplying PPE and creating an office 'test and trace' system.
Provided weekly messages to staff from the chief executive, to update staff with reports of how the business was performing and important changes.
Created a timetable of staff engagement activities throughout the year. This included a week of events that promoted staff wellbeing - including producing a pack of goodies sent to all homes
Mounted an effective rent campaign, involving residents in its design and messaging, with reassurance that no one would lose their home because of Covid.