West Kent has long been committed to building neighbourhoods as well as homes, and this summer has been a particularly busy time for our Communities team.
We have promoted mental and physical wellbeing, helped young people get active, taught youngsters new skills and advised residents on how to pay less for their energy. 
West Kent first began championing strong communities well over a decade ago when it set up West Kent Extra to promote events and activities that were open to whole neighbourhoods, not just tenants.
West Kent Communities continues to deliver a range of events that has in recent months included supporting Mental Health Awareness Day, teaching youngsters to cook, delivering financial advice and taking 44 young people away on a short break.
"At West Kent we believe it is important to build strong communities as well as provide great homes," explained Resident Engagement Officer Corinne Beech. "We are particularly keen to engage with 'hard-to-reach' groups and to encourage more people to get involved with our services."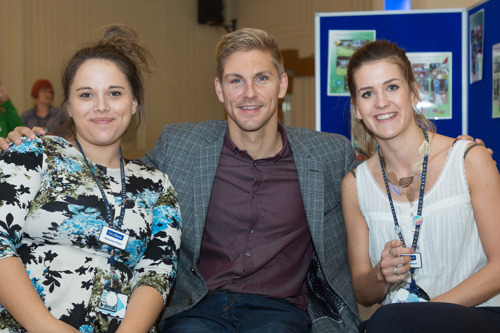 Former Paralympic wheelchair rugby captain Steve Brown joined the Communities team at a series of events in Sevenoaks, Swanley and Medway to raise awareness of mental health. 
As well as chatting to Steve about how he came to terms with a life-changing injury at the age of 24, visitors to Well-fest enjoyed activities including sports advice, back and shoulder massages, healthy food demonstrations and tastings and advice on how to cut their energy bills. 
After captaining the wheelchair rugby team at the Paralympics in 2012, Steve became a BBC presenter and commentator and now presents the Countryfile programme. "It's important to me that people continue to strive to realise their dreams," he said. 
Corinne commented: "We are always looking for ways to encourage the people in our communities to look after their health. This gave local people a chance to do just that and have some fun at the same time. Steve was truly inspiring; he left us all feeling that anything is possible." 
While Well-fest focused on mental health, our Skatefest event in West Kingsdown provided more of a physical challenge. 
More than 100 young people and their families tackled climbing towers and obstacle courses, were put through their footballing paces by Charlton Athletic Community Trust and tackled a number of other challenges designed to build physical and mental strength. 
It wasn't all hard work, though, with a free barbecue and ice creams on offer. Youngsters also ran the smoothie bike and helped community artist Graham Upton paint an 'urban art' mural on the end of the skate ramp. 
Andy Watson from Inspirational Talks led a discussion on the dangers of drugs and alcohol, there was sexual health advice on offer and the young people could also watch BMX riders in action and meet skater DJ Arick. 
The event will also have a longer-term community benefit. "The success of Skatefest has inspired us to work with West Kingsdown Parish Council to set up a new weekly session for 12 year-olds and upwards at the youth centre in Gamecock Meadow," explained Youth Services Manager Kate Craib. 
Our community events always aim to be enjoyable but with an element of information or learning involved, and that was particularly true of this year's Summer FunFest in August.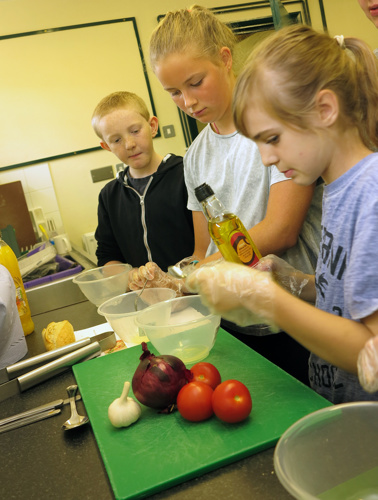 Youngsters in Eynsford, Westerham, New Ash Green, Dunton Green and Chevening enjoyed free half-day sessions that were great fun but also taught them about cookery, circus skills, drama and urban art. 
One of the first sessions was a Come dine with us event that saw a group of nine to 14 year-olds cook themselves bruschetta and chicken fajitas for lunch – but only after learning about food safety. 
And once again the success of this summer's events should lead to bigger things for the community, as we are hoping to work in partnership with the Imago organisation and Sevenoaks District Council to help develop their existing summer festival programme next year. 
Meanwhile a total of 44 youngsters enjoyed a two-day summer break at a scout camp in Essex on this year's residential week. 
They took part in activities including water roller ball, raft building and a water splash challenge and, in the words of Kate Craib, "challenged themselves to do things they didn't think possible, solved problems, explored, played, tried new things and overcame their fears – all while making lots of new friends." 
While much of the summer's focus was on keeping youngsters involved during the school holidays, this autumn will see us work with some of our older residents to help them prepare sensibly for the financial pressures around Christmas. 
We have been working with Maidstone Citizens' Advice to plan sessions on financial capability that will run through November and into December in a range of locations across Kent.
Another important part of our work with communities across Kent is the range of training courses we offer, all designed to provide people with new skills and, in some case, a route back into work.
This month's courses include 'Get confident for work', first aid and basic computer skills training sessions in Edenbridge and first aid training in Swanley. 
Our community events always aim to be enjoyable but with an element of information or learning ..."

West Kent Communities