Cheryl Banks, Leader in Charge at our popular HOUSE project in Edenbridge recently won UK Youth's prestigious 'Youth Worker of the Year' award, for her many years of hard work and dedication to young people in the Sevenoaks district.
HRH The Princess Royal has been a patron of UK Youth since 2003 and presented the award to Cheryl, one of only three shortlisted youth workers at the ceremony in London this November. Cheryl will now have the opportunity to have a private dinner with Princess Anne and Nigel Mansell to talk about her work. 
The award scheme recognises the achievements of an individual working with young people who has made a real difference – whether that be on a one to one, group or community basis.
"What strikes me as incredible about Cheryl's approach to working with young people is that she has an amazing knack for really getting through to each and every young person, no matter what the situation. She is challenging and pushes young people to focus on their self-development and find their place in the world. She is incredibly passionate about pushing forward positive change for young people" Charlotte Ede, Youth Services Manager.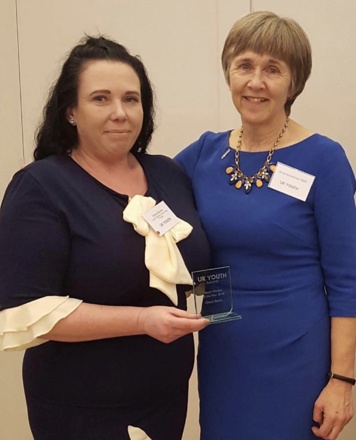 Cheryl's projects for young people include:
Helping five young people into work this year by supporting them to gain their CSCS card
Setting up a crime prevention programme, building relationships between young people and the local police
Working in partnership with Edenbridge Town Council to paint murals on the walls and tunnels at train stations to prevent random graffiti
1:1 sessions with young people to provide advice on mental and sexual health, crime, relationships, bullying and cyber bullying and drugs and alcohol
Supporting two young people through court proceedings and in mental health facilities
Raising over £10,000 to fund a trip to France for the centenary and supporting young people in their research into soldiers from Edenbridge.
 Although Cheryl manages a small team of youth workers, she has turned down the opportunity to take on better paid roles because she prefers working directly with young people, and feels her time is better spent in the delivery of youth work, where she feels she can make a real difference.
 One young person Cheryl has worked with said: "Without Cheryl's support I might have been homeless, or worse. She has supported me with my mental health during a trying time, and in finding housing when I had nowhere to go. She is always there and knows so much about the support available to young people. Not only is she a wealth of knowledge, but she will be right by your side helping you to navigate through it all, encouraging you to keep going. She is the whole reason I want to be a youth worker. If I can support one young person half as much as Cheryl has supported me, I will be glad."