West Kent's electrical and building contractor, Brenwards has pledged £10,000 towards a new delivery van for Abacus Furniture Project.
Abacus, part of our communities team, recycles unwanted, used furniture and household items, diverts good quality furniture from landfill and provides training and employment opportunities. We are involved with projects like the Community Repaint scheme, the Kent Support and Assistance Service and the Syrian Vulnerable Persons' Resettlement Scheme.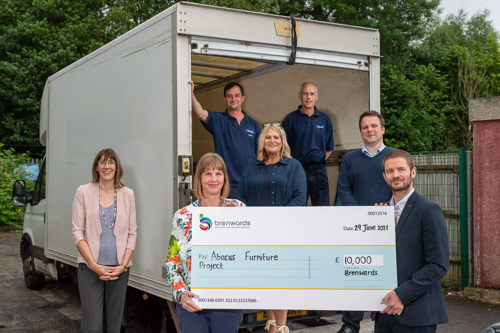 Our shops sell refurbished bikes in partnership with HM Prison Rochester and Medway Norse. Bikes, collected at waste and recycling centres, are refurbished at the prison, giving offenders new skills and a qualification.  
The current van used for collection of donations and delivery of much needed household items, needs repairing, and due to its age, it isn't economic to repair.
Tracy Allison, Chief Executive says: "The work by Abacus stores makes such a practical difference to people's lives, but also has wider benefits. For example, 46 tonnes were diverted in 2020 from landfill alone. We're incredibly grateful for the generous donation from Brenwards that supports this work which makes a difference to the communities we work in."
Scott Edwards, says: "We're proud of the strong and longstanding partnership between Brenwards and West Kent. Abacus is a fantastic opportunity for us to work together in another way to make a real difference to the people in our local community, at a time when they need it the most."
Abacus has stores in Sevenoaks and Walderslade. For more information, visit www.westkent.org/abacus or follow their Facebook page.