Residents took centre stage when we celebrated a remarkable achievement – building our 2,000th home.
We gave chocolates and a gift card to families living in new homes at Ryeland Way, part of the Bridgefield development at Park Farm, Ashford, to celebrate the completion of the 2,000th new home added to our stock.
And even as the families joined the party, Chief Executive Frank Czarnowski promised: "We are going to build another 2,000 new homes over the next decade."
Housing Director Deborah White met three of the families and said she was delighted to be able to share such an important milestone with some of the people who had benefitted from our commitment to building new homes.
"This is a really positive achievement," she said. "We are dedicated to housing people and to giving them a safe and relaxed environment in which to thrive as a family.
"The homes here at Ryeland Way, which include our 2,000th new build, are a great addition to our stock. This is a mixed development which is fantastic as it helps to create a sustainable community – something else that is at the heart of our philosophy."
While five of the impressive properties are rented, the sixth was built as a 'shared ownership' home, a way of getting on to the housing ladder by buying a share in a property and paying rent on the remaining portion. Shared owners can add to the amount they own over time.
"As the six homes were built as a block, we didn't want to pick just one as the 2,000th, so we thought we would invite all the families to join the celebrations," Deborah explained.
West Kent was established in 1989 when it took over the housing stock previously owned by Sevenoaks District Council, but we have since expanded across the county, with homes in Medway, Tonbridge, Tonbridge Wells, Maidstone, Ashford and elsewhere.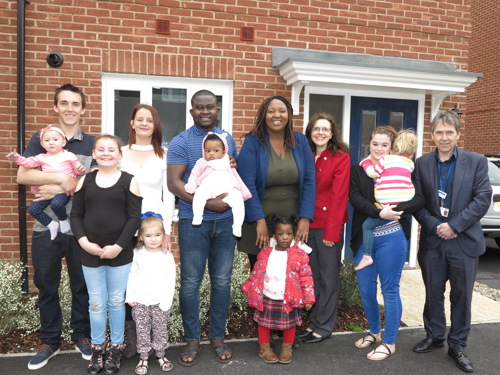 While Ryeland Way includes our 2,000th new build, our total stock has also been climbing and now stands at an impressive 7,000, despite the fact that many of the homes originally transferred were sold under 'right to buy' rules.
One of the new tenants, Sarah Holdstock, who lives with her partner Charlie Kingsnorth and children Courtney (9), Leyla (3) and one year-old Emilie, said she "absolutely loved" her three storey home.
"We were sharing with my mum before," she said. "There were eight of us in the house and we shared the front room with the baby. It was incredibly crowded – to move in here with all this space was just amazing."
The family was nominated to the home by Ashford Borough Council and moved in on the day they viewed it. "We couldn't have asked for a better place to live, and West Kent has been incredibly helpful with the move and making sure we have settled in properly," said Sarah.
"This is just a dream come true."