Sevenoaks District is one of the most protected building areas in the country resulting in high land prices. This protection in turn produces a challenge to providing new affordable housing for local people. As a result, we are working with partners to deliver new homes for people who otherwise would not be able to afford to live locally.
The newest example of this successful approach is this latest build in the Weald.
Local needs homes are built for people with a strong connection to their parish. They help young people to remain in the community in which they grew up. They also help older people to downsize and stay where they have connections. These homes benefit the community as a whole by retaining people who support and work in local businesses. The homes are usually rented and cannot be bought under 'Right to Buy'. Local people always have priority when they become available. The special nature of these homes enables them to be built on Green Belt land.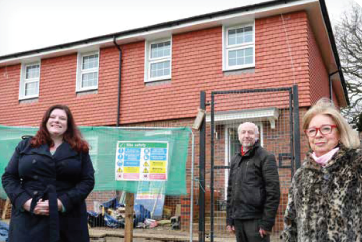 Weald Parish Council got the ball rolling by asking local residents and those with a connection to the village about housing. The survey found there was a need for new affordable homes for local people.
Rosie Woods, the Chairman of Sevenoaks Weald Parish Council, says: "We suspected for some time there was a need for more affordable housing. The survey confirmed this. It presented a strong case for a housing association and Sevenoaks District Council to deliver new affordable homes in the village just for local people."
The two new Weald homes are owned and managed by West Kent Housing Association. Both homes will enable people with a very strong local connection to live in the parish. Kate Flaherty, Director of Development and Partnerships explains: "This is a great achievement that really shows what can be achieved by partnership working. West Kent is determined to housing people and providing affordable, quality homes throughout Kent. It's wonderful
that these have provided homes for families who may otherwise have to leave the village they love."
Cllr Kevin Maskell, Sevenoaks District Council's Cabinet Member for Housing and Health, adds: "Building affordable homes for local people is a priority for this Council. But with high land prices and 93% of the District in the Green Belt, it s not straightforward. By working with parish councils and housing associations to identify local needs,
together we can help to deliver these much needed homes".
If you feel your parish would benefit from new affordable housing for local people, please speak with your parish council. Sevenoaks District Council is funding a programme of housing needs' surveys in every parish over the next five years.
If you'd like to know more about housing for local people, email Sevenoaks District Council's Housing Strategy Team, housing.policy@sevenoaks.gov.uk or call 01732 227000.