If you feel unsafe in your home, or are worried that someone in your community may be unsafe, we can help.
​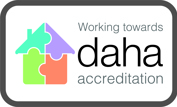 The green 'Leave Now' button at the bottom of this website will quickly hide the page, but you will still need to delete your history fully cover your tracks.
FIND OUT HOW TO HIDE YOUR BROWSING HISTORY
Domestic abuse is a crime and can be defined as: "any incident or pattern of incidents of controlling, coercive, threatening behaviour, violence or abuse between those aged 16 or over who are, or have been, intimate partners or family members regardless of gender or sexuality."
Domestic abuse can include, but is not limited to the following types of abuse: ​
psychological
physical
sexual
financial
emotional
If you have concerns, you can contact us by phone, email or use the form below. You can submit the form without leaving your name and address and we will still investigate your concern, though we will not be able to keep you updated on any outcomes. 
How we can help

If you are experiencing domestic abuse, or are concerned that another West Kent tenant may be, we are here to help and support. 

You can contact your Tenancy Services Officer (TSO) who is trained to give advice and information. They can signpost and refer you to specialist agencies. If you aren't sure who your TSO is, email mytenancy@wkha.org.uk or call customer services on 01732 449 400 and say you would like to speak to your TSO.

If you are concerned about your own or someone else's safety, or you see or hear disturbances with neighbours that worry you, you can also use the report a concern form below. You can report anonymously if you choose to and our tenancy team will still respond to and investigate the concern. 

Support services

If you are in immediate danger, call 999. For non-emergencies call 101 and you can speak to a police officer in confidence. 

There are also a number of specialist agencies who you can contact for help:

DAVSS offer a free and confidential helpline on 01892 570538 which is available from 10.00am to 1.00pm Monday-Friday

Kent and Medway Domestic Abuse Support Services offers advice and information on services for victims, friends & family, and perpetrators of Domestic Abuse and can link you with local services. 

Call the National Domestic Abuse Helpline for free, 24 hours a day, 7 days a week on 0808 2000 247

Respect work with perpetrators of domestic abuse to help them change their behaviour. Call free on 0808 8024040 Monday-Friday 9am-8pm