Spring is finally here, and so is the first 2019 edition of Neighbourhood News. 
Our shiny new edition should be landing on your doormat from now. Look out for it in the next few days. If you just can't wait until then, you can read it here.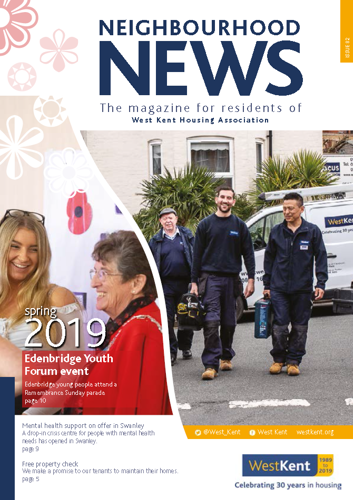 It's packed full of news from your areas. Read about the work and dedication of the Edenbridge Youth Forum who put together a research project and presentation for the centenary. We also have a new Abacus store opening on 8 May in Walderslade Village, Medway - find out more about what the Abacus Furniture Project does and how to get your hands on some bargains.
This year, we'll be printing three editions instead of two. We've listened to residents' feedback and made the paper cheaper - let us know if you like the new look and feel. And as always, if there's something you want to know more about, let us know and we'll try to include it in a future edition. 
Happy reading!