We are proud to have been awarded a Platinum Housing Footprint in the RSPCA's 2018 Community Animal Welfare Footprints (CAWF) awards. 
Celebrating its tenth year, the award scheme celebrates excellent practices by recognising housing associations and local authorities who go above and beyond their basic and statutory duties to achieve higher animal welfare standards. 
This year, we are one of four housing associations to have been awarded a platinum award for our continued work in our homes and communities. The award replaces the gold award which we held for five years. Through the monthly Love Your Dog Roadshows, pet policies, and partnership working with our tenancy services officers and local organisations, we can ensure the health and well-being of dogs in our properties are of a good standard.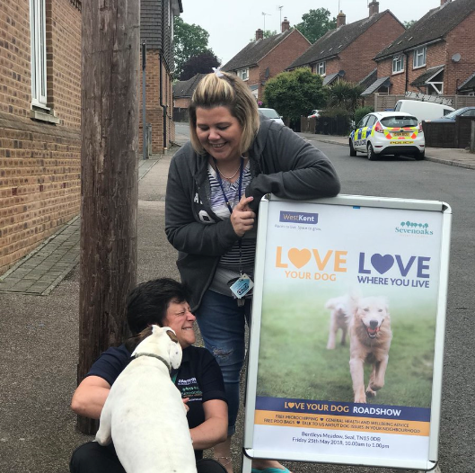 The popular Love Your Dog Roadshows began ahead of micro-chipping becoming a legal requirement in 2016, and when we took a break in 2017 we found the number of complaints about animal nuisance rose. This showed the roadshows had a positive effect, so we decided to bring these back across Sevenoaks and Swanley, working alongside Sevenoaks District Council.  As well as plenty of advice on health, well-being and behaviour, there are freebies available and while the focus will be on dog health and well-being, we are happy to talk to tenants about other more general issues.
Mandie Stallard, West Kent's Community Safety Officer said: "Each year we have met the criteria for the highest level of the award. Through our partnership with Sevenoaks District Council's Animal Welfare Officer and other animal welfare organisations we have been able to make a real impact in our communities and promote responsible pet ownership. As a result of our hard work, animal nuisance complaints have almost halved since 2014".
Rachel Williams, senior parliamentary advisor for the RSPCA, said: "It's fantastic that West Kent have not only achieved a Gold award, which is a great achievement in itself, but have held it for five years to receive the prestigious Platinum too. This is a real testament to the hard work of West Kent staff and their commitment to animal welfare."
The awards are supported by the Local Government Association, along with the Trading Standards Institure and the Chartered Institute of Environmental Health. More details are available at www.politicalanimal.org.uk/cawfhome
Details of our Love Your Dog Roadshows can be found on our events page.