Pull up a chair, grab a coffee and find out what's going on in West Kent neighbourhoods.
We send our tenants newsletter out four times a year, two editions are printed and p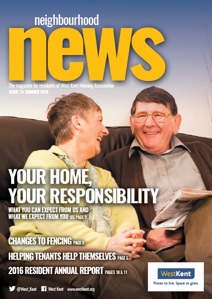 osted to all our homes and the other two are e-newsletters, which we send to any customers whose email address we have. Do we have yours?
Sending fewer printed editions saves us money and means we're able to give you the latest news throughout the year.
We'll still supply printed news updates for those who ask us for it.
Sign up to e-Neighbourhood News
The summer 2017 issue is out now.