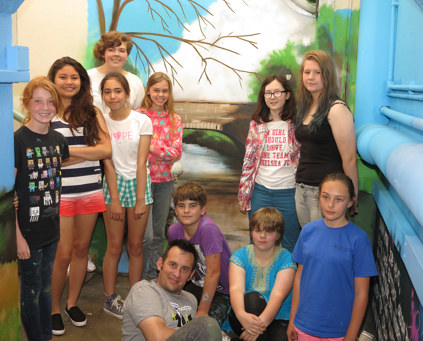 Youngsters from our HOUSE youth group have again put their talents to good use to brighten up their home town.
The youngsters took up their paints and brushes to work with community artist Graham Upton to brighten up a previously drab section of concrete wall on the way to Edenbridge Station.

The art project, once again driven by the Sussex Community Rail Partnership (SCRP), followed a similar initiative last year, when Edenbridge youngsters painted the subway under Edenbridge Town Station.

Zoe Keys, one of the seven young people who took part in the project, said it had been "a great experience", explaining that those involved had sketched out their individual ideas and then worked with Graham to create the mural.

"I am really into art and I found the process fascinating. I like the way you can take an object and then use artistic ideas to do so many different things to it," she said. "We took a blank wall and worked together to turn it into a piece of art."

SCRP's Sharon Gray said: "If you are able to see this art in the flesh, please do so as it is very difficult to get an idea of the scale and how beautiful it is from a photo.

Sharon said the artwork in the underpass at Edenbridge Town had become a visitor attraction in its own right, with people going to the station to see and photograph it.
 
Edenbridge Town Councillor and Kent County Councillor Clive Pearman, again supported the project with a donation from his KCC members' budget, while other funding came from Southern and the Association of Community Rail Partnerships.