Our popular Wellfest events have returned, with the first being held at the Eden Centre, Edenbridge. 
Wellfest is a free event that offer visitors a chance to find out how to improve their physical, mental and financial health, and that of their families.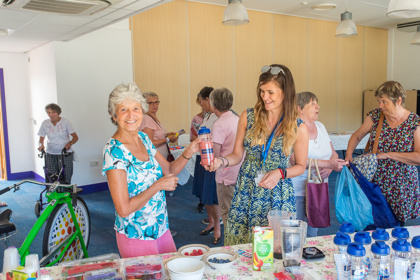 Visitors had the opportunity to speak with health advisors and receive a complimentary health check with tailored advice on how to improve their health. Other local organisations such as Pets as Therapy, Movement to Music and West Kent Communities were on hand offering help, advice and workshops on healthy meals and snacks, fun exercise and financial well-being. 
There was an opportunity to grab freebies such as food tasters, pedometers and drink bottles, along with the chance to win an Amazon Echo! 
Corinne Beech, Resident Engagement Officer explains: "It is so important to ensure we are supporting each other and our tenants to live healthy lives. Wellfest events are popular and beneficial for both our residents and the wider community. They encourage people to have some fun while getting some useful information to help them live life to the full".
The next event will be on 25 July at Copperfields, Ramsgate.