A community art project carried out by young people in Edenbridge last summer has picked up an impressive national award.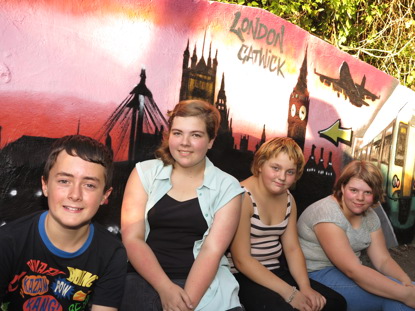 Youngsters from the ECTreme youth club worked with artist Graham Upton to brighten up the underpass at Edenbridge Town Station after the Edenbridge Youth Forum, co-ordinated by West Kent Communities, organised funding for the ambitious project, run in partnership with the Eden Christian Trust.
 
The underpass artwork, which took five days to complete, has now been named as the best permanent community art scheme at the Community Rail Awards.
 
Edenbridge Town Councillor Clive Pearman, who is also a Kent County Council member, pledged cash support from his KCC members' budget to help fund the initiative after being impressed by the youth forum's presentation. Further support and funding came from Edenbridge Town Council, the Sussex Community Rail Partnership and Network Rail.
 
The Edenbridge project was described at the presentation event in Southport, opened by Rail Minister Paul Maynard MP, as "a great effort by a great community that has added in a colourful way to the station environment".
 
Sharon Gray, from the Sussex Community Rail Partnership, attended the presentations with Graham Upton. She said afterwards: "I have been told by the staff at the station that people are coming especially to see and photograph the mural so word is getting around about just how wonderful it is."
 
A similar group of youngsters, members of the HOUSE youth club also run by West Kent Communities, took part in a second project with Graham this summer, to create another mural, this time on the approach to Edenbridge Station.
 
ECTreme and HOUSE are part of the Edenbridge Youth Consortium, a group of youth work providers led by West Kent Communities, which is commissioned to deliver a wide range of clubs and workshops for the young people of Edenbridge.