Tom gets off to a Flying Start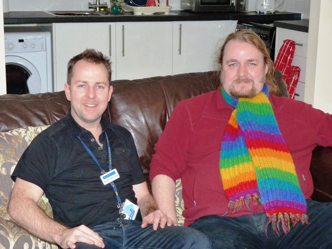 Local people are facing more and more housing challenges; limited affordable housing, increasing rents and welfare reform. West Kent Extra's new Flying Start Project, run in partnership with Sevenoaks District Council, runs workshops and offers one to one support to give potential social and private tenants the skills and support they'll need to manage their tenancies well.
Fhiona and her son Tom attended a Flying Start workshop in summer 2015, "After attending the event yesterday I just want you to know that it was a really good day. I learned a lot and it is reassuring for me that Tom could get help in the future with housing issues - just what people need when under stress of a house move. Thank you!"
Since the workshop Fhiona's son Tom has been housed by West Kent Housing Association in a newly built development in Sevenoaks. He loves his new home and feels confident he will successfully maintain his tenancy in the future.
The project team works with local businesses and agencies to ensure up to date advice and information is given, as well as working with private landlords to help them with any tenancy issues.
To find out more visit the Flying Start page from the related pages section, or call Brendan Abernethy on 01732 749964.