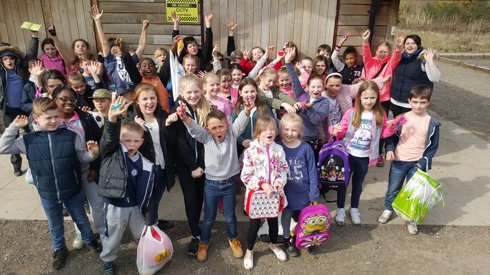 After the first year of funding from Children in Need we report back on the outcomes. Plus an Easter trip to Shorne Wood Country park with 46 children is a huge success! 
Last week Sophie Butler, our 8-12s project co-ordinator completed and returned the report to Children In Need after their first year of funding for the 8-12s project.
With support and funding from Children in Need we have been able to provide affordable, local, recreational and educational activities as part of the programme, including evening youth clubs for 8-12 year olds across four different areas in the Sevenoaks district.
We promote acceptable behaviour and responsibility by encouraging children to devise and adhere to their own 'Charter of Rights'. We encourage children to support one another and contribute ideas to our programme.
We have been able to provide a weekly programme with a mixture of physical, creative and educational workshops for the children to enjoy and learn new skills whilst improving their confidence.
All of the activities were designed to promote positive behaviour, raise children's self-esteem, teach them new skills and encourage new friendships to form.
Some of the feedback we received from parents is below:
"I have noticed a considerable improvement in both my son's confidence. 10/10"
"With the transition to secondary school the 8-12s project has been a welcome constant"
Some of the quotes from the children obtained from end of session evaluations include:
"I can't believe I was brave enough to do a solo at the showcase event"
"I felt really grown up cooking and serving my parents at the Winter Wonderland Restaurant"
Staff have observed 165 children improve in confidence by taking a lead on serving the tuck shop and helping deliver activities. 172 children have benefited from our project this year! 
Sophie ended last week with a trip to Shorne Wood Country park with 46 children to take part in an Easter activity trail. Lucky enough the weather was perfect and the sun was shining for the event.