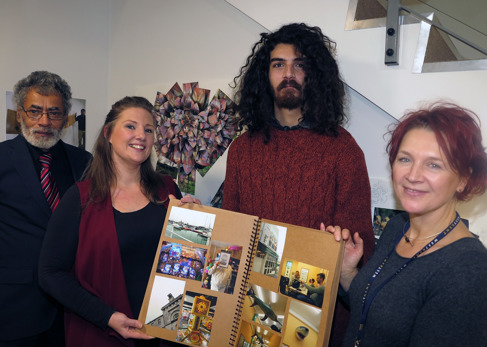 A photography scheme launched by West Kent to help residents with mental health issues express themselves and learn new skills is to continue – because participants didn't want it to end.
A number of residents of Library House in Ramsgate, built as part of Kent County Council's Kent Excellent Homes for All project as move-on accommodation for people with mental health issues, displayed their work at a party to celebrate the scheme's first birthday.
The shutter-happy residents had joined a ten-week course funded by West Kent and run by visual artist and photographer Sarah Bourne, who said she had wanted them to "think creatively, express themselves and explore the visual aspect of the world around them".
The course, which included photographic days out in places including the Turner Centre, Ramsgate, Broadstairs and Sandwich, was so successful that it has been given a new lease of life.
"In theory the course has ended," said West Kent's Innovation Manager Illa Scopel, "but the residents have come to value it as part of their routine and they were so sad when we told them it was their last session that we have decided to extend it into the new year.
"Some of them have spent some time in hospital because of health issues, but the remarkable thing is that not one of them has missed a single session that they could have attended."
One of the photographers, 23 year-old Charles Brown, mounted his photographs and then linked them with intricate pen illustrations, while another, Terri-ann Harris, said the course had helped her to put together a portfolio which she hoped would allow her to study photography at college.
Illa said Sarah would work with the residents in 2017 to finish off their projects and help them to stage a public exhibition of their work. She said West Kent would consider running a similar course in other settings.
"Sarah has done a fantastic job with the residents," she added. "They have got an amazing amount out of it and it really has made a difference to their lives."
Terri-ann, 28, summed up the experience: "It's given me a real sense of achievement," she said.