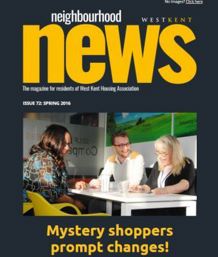 This week we passed a huge milestone with the very first e-newsletter aimed at all our residents, replacing the usual Spring Neighbourhood News.
It has a fresh new look, featuring snippets that link back to this website for the full stories, which means we can share hot topics and latest news in a more timely way, whenever we want to!
We'll be able to issue these on a more regular basis, whenever we choose, and put them directly into our customers' inboxes. They can, of course, unsubscribe if they wish at any time. We will continue to produce the twice yearly full print magazine in June and November.
We emailed the first edition to just under 3200 customers and stakeholders. This is a massive saving in time and cost and allows us to see how widely the magazine is being read.
To be sure you get your copy please check we have your current email address, and you can sign up for future editions here.
You can see the first e-newsletter here.