Making life better for Rose
Many people feel the need to double check the gas is off and the front door is locked before they go on holiday, but few of us find ourselves doing it over and over again. And again…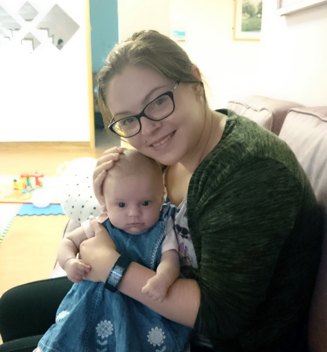 For Rose Rafferty-Clarke, checking and rechecking everything around her became an obsession that took over her life, upset her studies and left her anxious and exhausted.
It was when she was at her lowest ebb that West Kent stepped in and offered Rose a place in a supported housing scheme at Dunton Green, near Sevenoaks.
Four years on, Rose looks back on that move as the best she ever made and believes it was a vital step on her journey to recovery.
"I had no confidence, I was anxious the whole time and I wasn't able to concentrate at college," she recalled. "Now I feel calmer and more settled, I don't have the same anxiety attacks and life is better in every way."
Rose has now moved out of the supported housing scheme, although she still lives in social housing in the same village and she still has support from her West Kent case worker Gill English
 
"I still have occasional issues but now I know how to deal with them. I am able to get myself back to feeling OK instead of continuing in a downward spiral, which is what used to happen," said the 26 year-old, now the proud mum of a four-month-old daughter.
"Supported housing gave me a new start and I will always be grateful for Gill's help during what was a bad time for me. I felt life was years and years away, but now that's all changed."
Rose, who has also learned to drive, now lives independently with just one hour's support a week from Gill.  She explained: "I may be independent but I always know I'm not alone."
It's a long way from the life she used to lead. After several spells in a psychiatric ward she spent two years in a residential care home before moving into her own private rented flat when she felt the time was right.
Staff at the care home had helped her with life skills and Rose was keen to go to college, but life on her own proved tough. "I became anxious and developed OCD (obsessive compulsive disorder) tendencies," she recalled.
"I spent my time checking everything, the cooker, whether or not I had locked the door, even the boiler pressure. And even when I knew I had checked something five minutes earlier, I just had to check it again.
"I couldn't concentrate on my college studies because I spent my time worrying about what I might have left on at home, even though I had already checked everything several times."
Rose moved back in with her mum in Southborough but knew she had to move on with her life, which is when she spoke to West Kent and found herself in Dunton Green with the support of her "lifesaver" Gill.
"I felt settled and happy there and I stopped needing to check everything," she recalled. "It was a fresh start and I stopped feeling anxious. I was able to go to college without worrying and I felt I had got my life back."
After two years in supported housing Rose is now engaged to Ben, looking after her baby daughter and living independently. "It had an amazing impact on my life and I now feel able to move forward," she said. "Gill is still there when I need her but I am stronger within myself, too.
"What I particularly liked about living in supported housing was the fact that I wasn't left to struggle with issues on my own, but at the same time I wasn't treated like a child.
"The other thing that works well is the fact that the support is tapered and can be slowly reduced as the person builds up their own confidence. It really has changed my life."