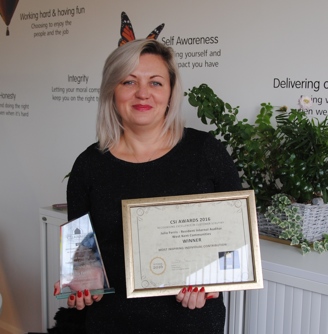 Our own Julia Ferries won the award for Most Inspiring Individual Contribution at a national awards ceremony held in the impressive surroundings of Gorton Monastery, Manchester.
Julia, who has worked alongside West Kent for several years to help us develop the way residents work with us on auditing the services we deliver, was honoured at the CSI (customer scrutiny inspection) awards.
"This national award is for excellence in customer scrutiny and is a real tribute to Julia," explained Innovation Manager Illa Scopel. "It's also very well deserved."
Auditors help our 'scrutiny' function by looking at the way we do things, working through the processes we use and trying to find ways of doing things better for our residents.
After working with Mazars, West Kent's internal auditors, when we were looking at gas servicing and repairs, Julia provided a great deal of valuable feedback on how we could improve our links with tenants in carrying out audits.
"All the recommendations Julia made after working on that audit were taken on board and became part of our approach," said Illa. "She has played a fundamental part in developing our work in this area and has helped shape the future of audit for the organisation."