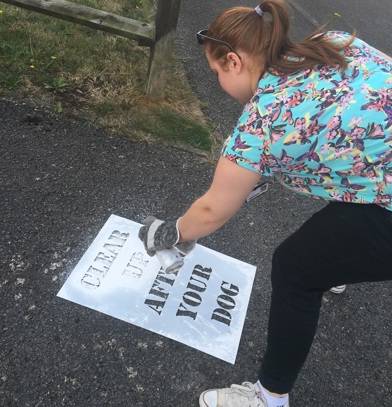 We are proud to be one of 11 housing providers in the country to receive a gold Community Animal Welfare Footprint award from the RSPCA. We have received the gold award for the fourth year running due to our proactive approach to encouraging our residents to be responsible dog owners.
This year we've been on a mission to give our residents as many opportunities as possible to get their dogs micro-chipped free before the new law came into effect in April. And our dog fouling campaigns included erecting posters on dog fouling and chalk stencilling the pavements in hotspot areas with 'clear up after your dog' messages.
Our approach combines our pets policies, our database of all animals kept in our properties and our close working links with other animal related companies and local partners. We even put on a festive event at Christmas for the dogs!
We have continued to work closely with Sevenoaks District Council's animal control officer, carrying out joint visits to check on animals living in our properties. Other partners we have worked with this year include DogsPsycheUK (behaviourist) Premier pet food suppliers, Hextable dog club, PDSA, Dogs Aid and Guide Dogs for the Blind.