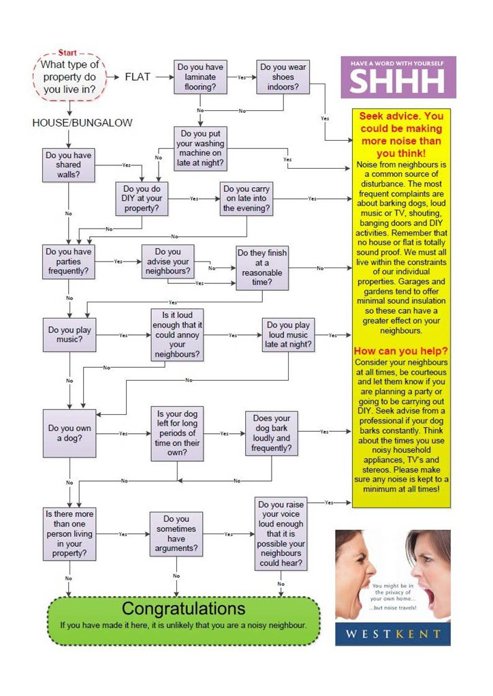 Shout it from the rooftops – on second thoughts, don't. We want residents to know about our efforts to prevent noisy neighbour issues, but shouting is the last thing we need.
Instead, Community Safety Coordinator Mandie Stallard spent time talking to local people in the Swanley Link to help them understand the problem and encourage them to think carefully about their own behaviour.

Mandie has even created a special flowchart that helps people understand how likely they are to be upsetting their neighbours by making too much noise.

The drop-in session in Swanley was organised as part of Noise Action Week and gave Mandie the opportunity to chat to local people about the kind of things that cause problems.

"As a responsible landlord we want to help all our residents live happily together and we know how annoying noise nuisance can be to some people," explained Mandie.

"We also know that in some cases people aren't being deliberately noisy and simply don't realise that they are causing a nuisance to their neighbours. The flowchart is a way of helping people understand how the way they behave can affect the people around them.

"We took the opportunity to talk to visitors in Swanley Link, which is an important community hub for the area, about noise and the problems it can cause. It was an important awareness-raising exercise as part of our ongoing campaign to cut down on anti-social behaviour."

The community safety team was accompanied by West Kent's two mascots, Doug the Bug and Bella the Bug, who support the housing association's efforts to make its neighbourhoods great places to live.