Getting tenants off to a flying start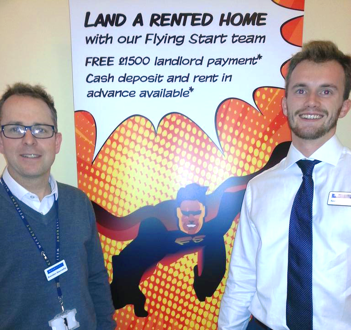 Finding somewhere to live is difficult enough at the best of times, but without the right information and advice it can be an even more daunting prospect.
One Kent housing association is tackling that problem by holding workshops designed to help potential tenants find a home to rent, either in the social or private rented sector.
West Kent is also taking the Flying Start concept to the next level by giving people advice not just on obtaining a home but on following the rules to make sure they keep it.
Flying Start, commissioned by Sevenoaks District Council, is run by co-ordinator Brendan Abernethy, whose goal is to help people find their way through the rental maze and tell them about opportunities and support they might not have been aware of.
"The aim is to help people but also to encourage them to be realistic and to focus on what is best for their situation," said Brendan. "If someone is clearly not likely to reach the head of the public sector queue, we will look at what help might be available in the private sector."
Equally importantly, Brendan aims to make sure that when tenants do secure a tenancy they understand the importance of paying their bills and sticking to their tenancy agreement.
As well as sharing his skills, contacts and information at Flying Start sessions, Brendan is available to talk to people who get in touch with West Kent looking for advice in what is a complex area.
As well as sessions on private and social housing options, renting privately while on benefits, tenancy rights and responsibilities and benefit and debt advice, everyone attending one of the free events is offered a one-to-one session.
"What we are looking to do is help people find suitable accommodation and then protect their tenancy by understanding their rights and responsibilities. We also work closely with Citizens Advice, Sevenoaks District Council's private letting scheme, the HERO project and West Kent Debt Advice," said Brendan.
"The sessions are useful for people who are under a notice to quit or who are being pressured to leave the family home and who need to know that there is help available – and how to find it."
Brendan has so far run six workshops attended by 64 people and has run 91 one-to-one sessions. Six people have been housed and he has helped to prevent one eviction.