Friday Club welcomes new members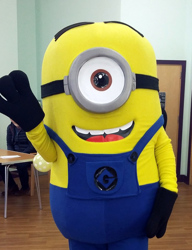 A club we introduced to help young parents in the Edenbridge area is going from strength to strength after a successful fun day featuring a number of 'despicable' characters.
The Friday Club put on the fun day to try to reverse a decline in numbers – and it succeeded in an impressive fashion.
Within a few weeks the club, which meets at HOUSE in the Eden Centre, had signed up six new families, organised a successful day out and fixed up a number of training sessions for its new members.
"It was great to see such a good response to the fun day," commented Amy Cole-Perner, who runs the West Kent Extra-backed group.
"The event was well supported and attracted half a dozen local young families who decided that the Friday Club had something to offer them – and their youngsters – every week."
The club had needed new members because a batch of mums close to the upper age limit of 25 had left together. "Ironically, because Friday Club had helped them become such good friends, as soon as one left they all followed," Amy added.
"Friday Club offers somewhere for mums to meet, take part in craft activities with their youngsters, get advice if they need it ad even go on trips, and so we knew it was meeting a need. It was just a question of reaching out to people, and the fun day achieved that."
Amy's fun day planning was supported by young mum Lauren Perry, who was so impressed with the difference the Friday Club made to her life when she arrived in the town that she wanted to see others benefit in the same way.
"The group really did change my life," she recalled. "I started coming when Brodie was just eight months old, I quickly made some good friends and by coming to the library for the meetings I found a job, too. It's a really good place to chat to other mums and perhaps even share issues and anxieties."
As numbers at the free weekly sessions began to rise following the fun day, Amy asked members where they would like to visit. The group chose The Hop Farm Family Park at Paddock Wood, a venue which proved a hit with everyone.
With much of what the Friday Club organises driven by the members themselves, Amy has now been asked to set up a paediatric first aid course and is also planning to organise a self-esteem course in June.
"We still have vacancies if any young parents would like to attend, and everything is free – including the trips," said Amy. "Contact me by emailing getinvolved@wkha.org.uk for more information."