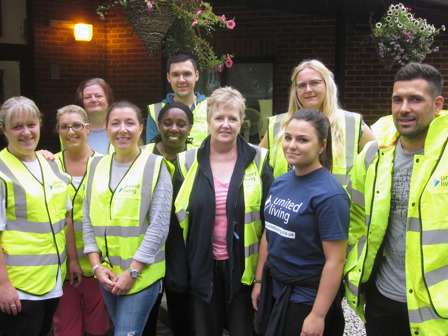 A local construction company devoted a wet autumn day to making sure that residents of White Oak Court in Swanley will be able to sit outside in comfort the next time the sun shines.
Staff from United Living spent Friday (16 September) sanding down and restaining the scheme's garden furniture and putting it back into tip-top condition for the elderly residents.

Estimator Steve Fletcher explained that United Living devoted a day of their staff's time each year to supporting a good cause and said the team had been delighted to help the residents of White Oak Court.

"We are based in Swanley and so this scheme is local to us and it means a lot to help the residents here," he said. "Some of the staff live so close that they walked here this morning."

Scheme manager Michelle Whitlock said the company had done "a brilliant job" of renovating the furniture. "It had needed doing for some time and it's great that United Living stepped in to help," she said.

"I think it's marvellous; we are all very pleased," said 88 year-old resident Irene Wallace. "Lots of the tenants love sitting outside in the summer and we are all really pleased with what a great job they are doing."

The day long Friday session meant that the tables and chairs were renovated and back in the garden in time for National Housing Day today (Monday 19 Sept).