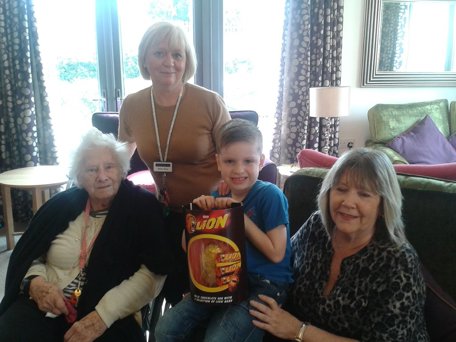 Billy inspired by the man on the moon
Young Billy Ireland's touching response to a Christmas TV advert looks like making a big impact on his neighbourhood well into 2016 and beyond.
Billy, who took Christmas presents to some of the elderly people living at Montgomery Court in Wainscott, was hoping to keep visiting his new friends, while other members of the family are already planning to do even more for lonely people this year.
On Wednesday 30 March Billy was invited for afternoon tea with the tenants who he visited on Christmas day with lots of presents donated from John Lewis following the man on the moon TV advert. One of our tenants Maureen who is our 'master baker' made homemade cupcakes, strawberry and cream scones, sausage rolls and sandwiches especially for Billy and his family.
We surprised Billy and his sister Ellor by organising an Easter egg hunt for them. They were also given a large Easter egg each and a fluffy rabbit. Billy and Ellor played games with a few of the tenants and they all really enjoyed themselves. Billy surprised everyone once again by giving each tenant an Easter egg too.
Billy asked if he could come again as he is doing a project on the war and would like to speak to the tenants for some information. Watch this space for Billy's next visit.