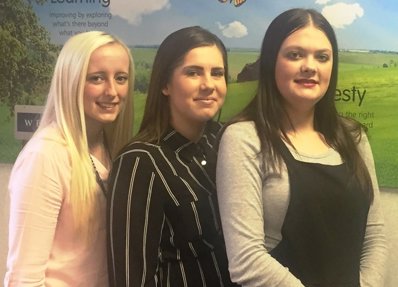 Backing National Apprenticeship Week
Apprentices working with housing provider West Kent are planning to share their experiences at an event they are organising in support of National Apprenticeship Week 2016.
West Kent has been an enthusiastic supporter of apprenticeships for many years and has provided opportunities in customer services, housing management, marketing and other areas of the business.
Now it is throwing open its doors for a Made by Apprentices event at West Kent's offices in Sevenoaks on 17 March from 2pm to 4pm.
A number of apprentices, including Charlotte Gunner, now 21, have gone on to enjoy full time jobs with the organisation, as well as picking up valuable skills and experience on the way.
Charlotte began a one-year apprenticeship with West Kent's Customer Services Team in October 2014, but after just seven months the organisation, which now provides homes across much of the county, offered her a full time job.
"The great thing was that West Kent also gave me the chance to carry on with my college course," she said. "I was able to complete my Level 2 NVQ in customer service even though I was a full time employee."
Charlotte was then offered a secondment to West Kent's Housing Options Team, where she is picking up valuable experience that she believes will help her when she returns to her customer services role and her longer term career.
"It's interesting to work with the options team as that's where people begin their journey with West Kent by applying for a home," she said. "It's those people that the customer services team is there to help later on."
One of West Kent's current apprentices, 17 year-old Leila Clack, is playing a major part in setting up the Made by Apprentices event later this month. In a letter to local companies, the business services apprentice explains: "The event will give you an opportunity to have afternoon tea and refreshments with West Kent's apprentices, their line managers and with apprentices who have now qualified.
"You will have the chance to talk to us about being an apprentice and find out more about employing apprentices, what it's like working for West Kent and where we think we might like to be within the next few years."
Leila is also studying for her NVQ Level 2 and said she was enjoying the experience and wanted to build a career with West Kent.
Both Leila and 18 year-old housing management apprentice Jodie Stacey are studying under the Kent Training and Apprentices programme.
"We are visited by a tutor and given assignments every five weeks and West Kent gives us two hours of study time a week when we complete the assignments," she explained. "The combination of studying and working – in my case alongside Jenny Swoish, one of the neighbourhood housing officers – really works well.
"I have always wanted to work in a job where I felt I was making a difference and housing really appeals to me as a career."