Pre-owned furniture recycled by our Abacus store took pride of place in a 24-hour celebrity charity event.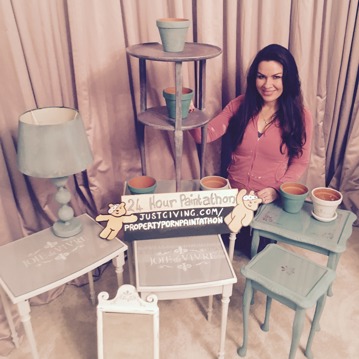 Popular TV weather girl and celebrity upcycler Georgina Burnett painted the occasional tables during a charity 'Paintathon' for the BBC's Children in Need appeal. Her marathon effort was screened live on her Facebook page and is the natural follow up to her "Proper Property Porn" blog and YouTube channel.
After completing the sponsored event and raising an impressive £1,770 in the process, a tired but happy Georgina donated the finished pieces back to Abacus, which uses the money it generates to support projects delivered by West Kent Communities.
Georgina lives in Sevenoaks and is a regular visitor to the local Abacus store, where Stef Collini helps her find interesting bits and pieces to make over. Stef was happy to donate two nests of tables and an occasional table to the cause.
"When I decided to do a 24-hour Paintathon for Children in Need I knew that Stef would be able to find me some items to paint," Georgina explained. "As well as raising money for the appeal through sponsorship, I plan to donate the painted items back to Abacus to sell because I know what great work they do as a social enterprise."
On her live video introduction to the event on Facebook, Georgina promised to "make what was once ugly beautiful and give you hints and tips on the way."
Our three Abacus stores, in Sevenoaks, Medway and Maidstone, achieve three important goals. They keep unwanted furniture, electrical goods and other items out of landfill, they provide a useful source of second hand items for the less well-off and they offer training and volunteering opportunities for local people.
"Georgina quite often pops in looking for furniture she can upcycle and it was great to be part of this fund-raiser," said Stef. "Now we are hoping that people will be keen to bid for one of these unique items."